Editor's Note: Here is a truly heartwarming story about how six Clergy Project members found themselves at the same gathering.  By the writer's description, it had as much or more "spirit" as any church service he'd ever attended – and all without a hint of supernatural forces. /Linda LaScola, Editor
=============================
By Carter Warden
As some of you may know I have been closely following and encouraging others to follow Dave Warnock's "Dying Out Loud" tour and message. Dave is a former pastor, fellow Clergy Project member and now friend.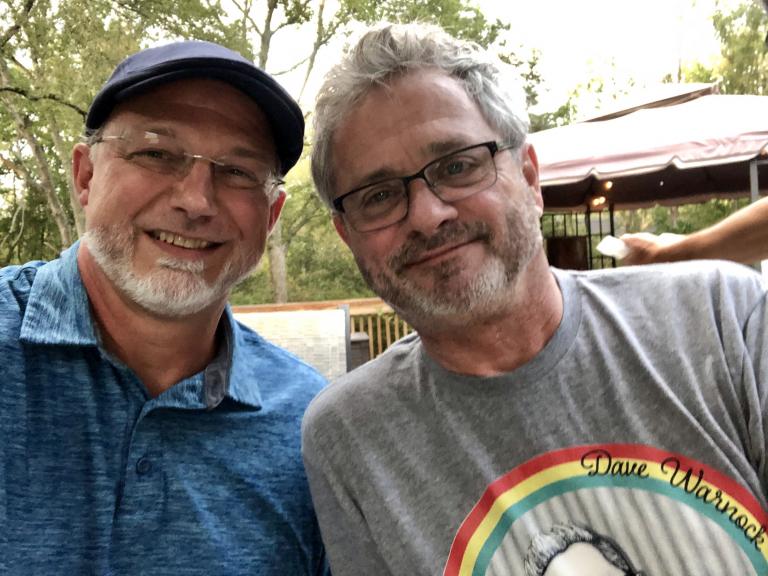 Dave left the ministry several years ago, but because life is random, chaotic, and unpredictable, in March of 2019 Dave happened to be one of the few people each year who are diagnosed with ALS (Lou Gehrig's Disease). Realizing immediately that this precious and brief life just got more precious and incredibly brief, he is making plans to travel, sharing how he faces death as a non-believer, grabbing all the moments, making memories and spending time with people he knows and loves.
In my conversations with Dave, I began to hear about this incredible group of non-believers in the Nashville TN area that meets once a month or so to just share life and encourage each other as they live their secular lifestyles in this very religious world. This gathering formed around a podcast that highlights ex-Christian deconversion journeys called Everyone's Agnostic, hosted by Cass Midgley, a member of TCP and Nashville resident. Listeners of the show formed a secret support group on Facebook and began meeting together around 3 years ago. The group naturally has become a great source of support for Dave after receiving his diagnosis.  In turn, the group has been energized by Dave's inspiring message and attitude.
While on a business trip to Chattanooga, I learned that the group was meeting the same evening that my conference was ending, and only two hours away.  So I just had to make the drive to meet these great people.
The trip was not disappointing as I was welcomed by the group and witnessed what just years earlier I thought only the church community could provide: a loving, compassionate, caring and encouraging community. Now, with my post-faith perspective, I realize these are just normal sociological occurrences that any group of like-minded people can experience — no supernatural forces needed.
That evening, on the large back porch, the group of approximately twenty-five people took turns going around the large circle sharing whatever they wanted for a couple of minutes each. I was astounded to find out that five of them were members of The Clergy Project! Probably because I had early on in the rotation shared about my involvement with The Clergy Project, most of those five told the others how beneficial The Clergy Project had been for them as they transitioned from faith to reason.
One mentioned how important the free counseling sessions had been and another acknowledged the emotional encouragement they received through communicating on the private online forum. Most – but not all – are now "out" as non-believers, thus the blurring of the group photo that I asked to take and that all graciously agreed to.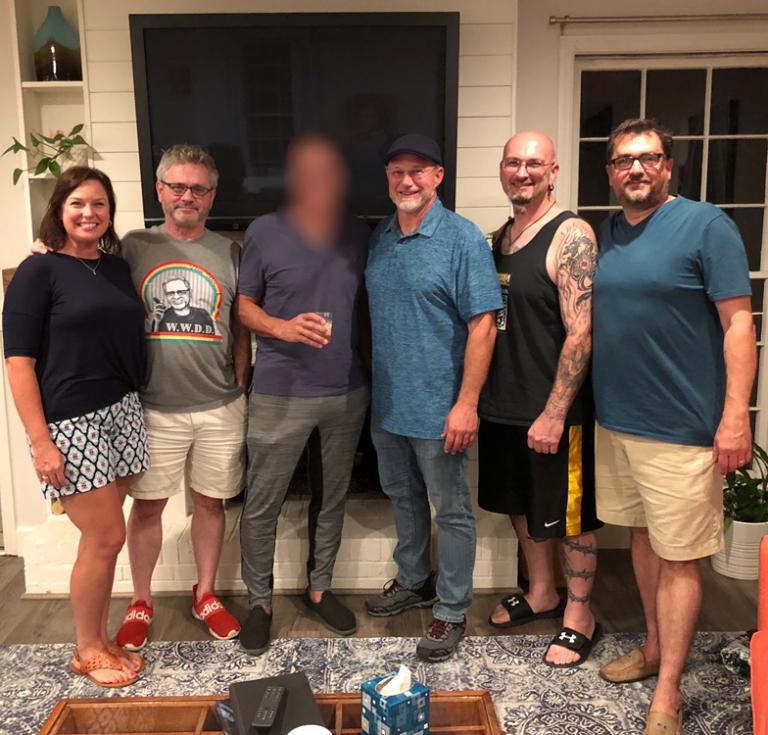 My brief spur of the moment trip to Nashville was well worth the time and effort to be reminded of the importance of community and also reminded how meaningful the work of The Clergy project is. Thank you to all the former clergy volunteers who spend hours providing a safe haven of hope and healing for clergy who have moved beyond faith. Never would I have imagined that six members of The Clergy Project would be present in same location for an unplanned event!
This is a great example of the message Dave Warnock is sharing: Seize the opportunities and moments in life to connect with others and make memories.  Or as Dave likes to say, "Carpe The F—— Diem!"
=====================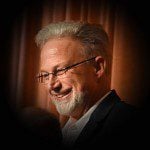 Bio: Carter Warden is a former conservative pastor of 25 years, now openly atheist. Using the pseudonym "Adam Mann," he was a founder of The Clergy Project, its first member and one of its first forum moderators. "Adam" was one of the original five interviewees in the 2010 Dennett-LaScola article, "Preachers who are not Believers." While still in ministry, he was interviewed undercover by ABC World News Tonight and the Canadian Broadcasting Company. Carter made his change of beliefs public at the Freedom From Religion Foundation National Convention on October 7, 2016. Carter is now a member of the Secular Student Alliance Speakers Bureau. He hopes that his story and songs will bring encouragement to clergy who feel trapped because of changing beliefs, people who fear openly identifying themselves as non-religious, and anyone who desires to be honest and genuine about personal beliefs, identity and personal expression that may go against societal norms.
>>> Photo Credits: Carter Warden, by Andrew Seidel FFRF 10-16