Editor's Note: Although members of The Clergy Project have much to regret about their careers in ministry, there are happy times to look back on as well. Seminary, for instance, isn't all about learning philosophy and Biblical history. Like any grad school experience, there's often liberal libations involved. /Linda LaScola, Editor
===========================
By Chris Highland
Fridays were all about TGIF under the bell tower of Geneva Hall before we herded everyone, students and faculty, down the hill to the tiny apartment I shared with Tom. A break from deep and intense studies called for a party atmosphere. Tom popped the popcorn and I hit the local liquor store for cheap beer. The music was on, blender up, and more students began the steady flow up the stairs and through our door.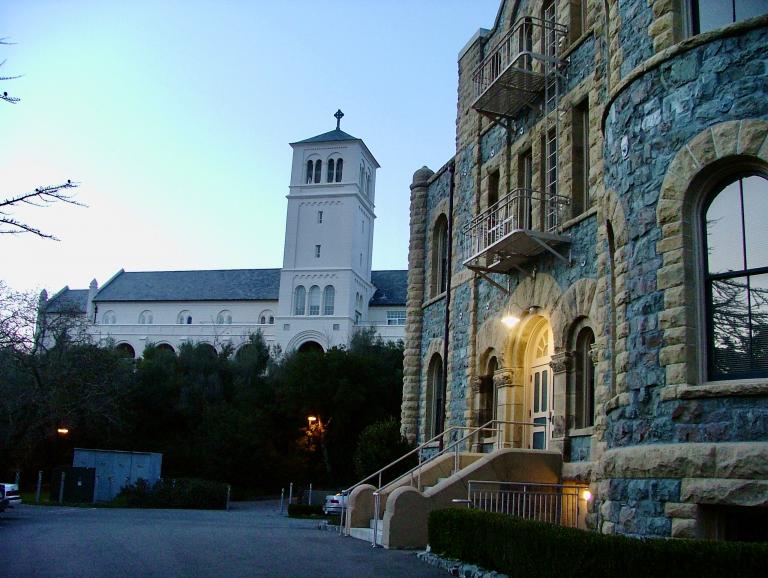 College days? No. Seminary. Yes, the stone-cold towers of theology were often packed with piety and preaching while we endured Church history, Biblical studies, Worship, an awful thing called "Polity" (proper church governance) and much more. With god-talk all week, who would blame us for raising glasses of blessed spirits along with our own?
Tom was at least 10 years older than I with a background in business, a passion for railroads and he was an excellent photographer. Seminary was a second-career path for him, a first for me. Our small cinder-block hovel was situated in the middle of the top floor of the dorm. The building wasn't quite old enough to imagine the "General of Geneva" John Calvin ranting down the open-air hallway but there was a kind of humble sense of simplicity. Not like monks' huts or anything, just basic.
Number 303 was just about right for Tom and me. With our incessant puns (that could drive just about anyone from the room) to our blasphemous conversations, raucous laughter and aforesaid parties, we dubbed our space "Heretic Hollow." Thus it became infamous as a meeting place for banter and brew where any wild idea could be tossed around for delight, derision or another drink.
When some ask the rambling roots of my journey into and out of ministry, my mind often drifts back to "The Hollow." We were playfully proud heretics, though we could be dead serious about injustice and religious intolerance. We felt as liberated in our thinking as the radical ideas we were reading in "Liberation Theology." There was no hollowness to our freethought.
I hasten to add that Tom and I were pretty sensitive, spiritual-type fellows. We could act as "reverendly" as just about anyone. Several classmates and a few professors were pious believers—paragons of the Reformed Faith (the Calvinistic branch of Protestantism). There was no doubt these "models of ministry" would find pastorates anywhere in God's Presbyterian Kingdom. Tom and I could say the correct words (usually) and lead the rituals in the proper way (mostly) just like the others. But when it came to the Bible we wandered off the orthodox path so far we couldn't hear the church bells anymore. We had teachers who drew things from scriptures that almost convinced us the Church was probably not what God intended in the first place.
For more context I should say that this Bay Area seminary was a member of a consortium of seminaries in Berkeley where I took classes from Jesuit priests, Buddhist practitioners, Jewish rabbis and other Protestant teachers. The Graduate Theological Union was a major reason I chose to relocate from my home state of Washington to California. I lived there in Berkeley, on "holy hill," for my final year, completing my M.Div.
Tom was highly respected across campus for his knowledge, his photographic skills and his lively sense of humor. A great storyteller, he was, I suppose, a natural minister. I, on the other hand, became known by some as "the bartender" and by others as "the Jewish Presbyterian" since I attended synagogue services held in the campus chapel more than attending church. Rarely attending congregations in my own tradition, I regularly took my developmentally disabled students from the private school up the street to Catholic Mass on Sunday (the young priests were very welcoming, even including my students and the Protestant guy—me—in serving the Eucharist). In some ways that remarkable community presented a healthier model of what the Church could be than my own denomination.
Tom and I had different interests, but we shared a common delight in heresy. We were happy heretics. We never gave up our faith, we just asked a lot of persistent, pertinent and impertinent questions. We perfected the art of jabbing the church, especially our own denomination, teasing those who took it all way too seriously, at least as we saw it.
Tom went on to serve a number of pastorates, eventually becoming a Stated Clerk for two midwestern presbyteries (highly influential and respectable positions). My chosen career—sorry, I mean my "vocational calling"—was to multi-faith chaplaincy and teaching. Though I did "give up" my faith and left the church years later, Tom stayed and brought his sharp mind into what was, I have no doubt, decades of successful service.
I never let go of my admiration for Tom, and deep appreciation for the ways he helped me settle into unorthodox views and a lighter outlook on life.
Several years ago I heard from a former classmate that my heretical brother had died. He suffered through cancer and other life struggles while remaining "in good standing" within the church. I was sorry I didn't stay in touch with him. We would have had a whole pew-full of stories to tell and laughs to laugh. Maybe a few more brews to share.
One final memory from our top floor apartment: Tom was petrified of heights, so one day when he was eating lunch at our kitchen table with the front door open, I stood outside the railing, on the edge high above the street, and called out, "Hey, Tom!" Glancing out, he let out a yelp, leapt from the table and ran to his room. I loved telling our classmates that story, much to his chagrin.
Yet another legendary story of mirth and mischief from Heretic Hollow.
===========================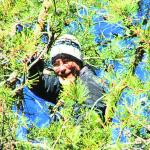 Chris Highland was a minister and chaplain for many years in the SF Bay Area. Now teaching courses on Freethought in Asheville, North Carolina, he writes a weekly "Highland Views" column for the Citizen-Times. His new book, A Freethinker's Gospel, is now available from Pisgah Press. Chris has been a member of The Clergy Project since 2012. To learn more, see www.chighland.com.
>>>>>Photo Credits: Geneva Hall, by Chris Highland