By Linda LaScola, Editor
This past Saturday I attended the "Celebration of Life" of the brother of an old friend of mine. I'd only met the brother once, but I'd heard about him often from my friend and more recently as he suffered multiple setbacks with various forms of cancer. I always intended to go to the funeral. It was a no-brainer. The family lived locally and I knew my friend would appreciate the support. What I didn't expect was the positive effect the experience would have on me.
Part of it was because it was an Episcopal service, not a Roman Catholic service. Thus, I knew it would be familiar – and I also knew I wouldn't be offended, as happened at the same friend's father's funeral more than ten years ago. In that case, the priest prissily stated from the altar that only "Catholics in good standing" could take Communion. The effect of his admonition was that I and another friend – who actually is Catholic, but not "in good standing" (i.e., had not been to confession recently) – rushed up to take communion. We knew that our friend, an atheist, would see us, understand our motives and delight in our disobedience. We knew that the presiding priest had offered no comfort during the Catholic funeral planning and instead had badgered our friend to make a good confession in order to qualify to receive the sacrament of Holy Communion in such an auspicious moment.
I also knew I could pull it off. I can look like a very pious little Italian-American Catholic lady when I want to. It's a skill I attribute to early training and years of practice.
It just occurred to me as I was writing this, that there was no communion moment in this Saturday's service. The presiding priests, both women, just left it out! This was probably at the request of the family who knew there would be people there representing various religions, and no religion. The purpose this event was not to repeat an ancient ritual that excluded the uninitiated or the apostate. Instead, the purpose was to honor the deceased and those who came to mourn him.
Perfect, but this could never happen in the Catholic Church. A mass without communion is not a mass.
But this service was the best of any mass I ever attended, with beautiful, familiar hymns, like Lord of all Hopefulness, Lord of All Joy, On Eagles Wings and Amazing Grace, the traditional order of service (minus the communion segment), eulogies by family members (including my friend, who spoke beautifully and touchingly) and by a childhood friend who added humor and spontaneity to the occasion. This was all in the lovely setting of a small, well kept and charming church.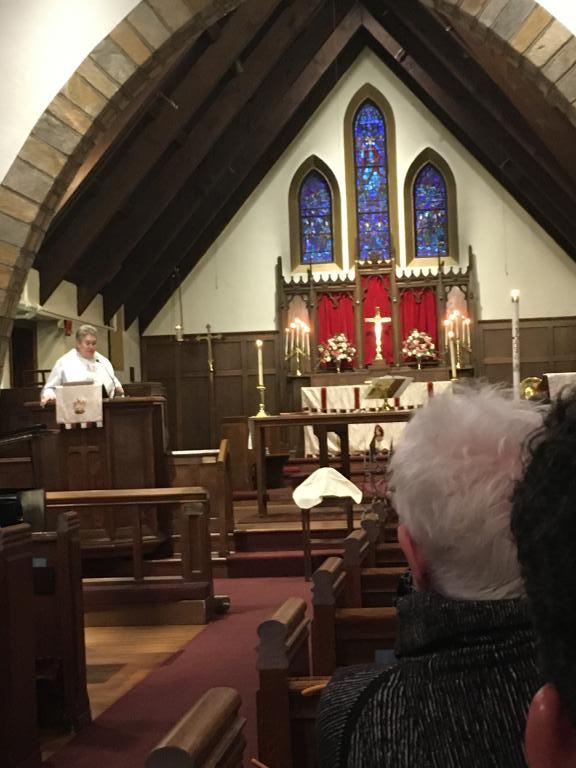 There was no casket, but I spied a small covered urn in front of the altar. Yes, we were there for a funeral, but we weren't focused on the dead body. We were focused on the life of a person who had left us but who could still bring joy by recounting memories of him.
And yes, it was still a Christian service – with numerous references to God and "life everlasting" and "Hear us Lord" in the call-and-response part of the prayers. I noticed that I was not offended by it. Instead, I found myself thinking of how secular words could be substituted for the god-talk, thus allowing for the calming rhythm of the service without the repeated reference to God. Liberal Christian Churches have been watering down the language of the service for decades, century's maybe. The Unitarians have worked on it too, but in my opinion have excised the comforting essence of the service along with the god talk. The few humanist Sunday Assembly services I've attended were more like old-fashioned hootenannies with people singing and clapping to mediocre modern music with uninspiring, inoffensive words. Such humanist gatherings serve a useful purpose for some people, I know, but not for me.
As I write this, I'm listening to a You Tube recording of Lord of all Hopefulness, Lord of All Joy
and thinking about how to keep its essence while excising the religious references. I'm also listening to my all-time favorite religious music, Allegri's Miserere Mei, Deus, with no desire to change anything about it. Perhaps it's because it's in Latin, and the music is so ethereal that it doesn't matter if I'm aware of the religiosity of the words.
After this experience, I think there may be hope for atheists like me, who appreciate ritual and the beautiful music that centuries of Christianity has provided. Maybe we can develop something lovely that provides the ritual hit we crave without the crazy beliefs.
Then again, perhaps I should just bask in the comfort of this moment – this unexpected gift of a thoughtful 21stcentury Episcopal funeral service. When I want another hit, I could just drop in at the occasional Latin Mass at the nearby Roman Catholic Cathedral and call it a day.
What do you think?
=========================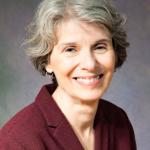 Bio: Linda LaScola is co-author, with Daniel C. Dennett, of Caught in the Pulpit: Leaving Belief Behind (2015) and "Preachers who are not Believers"(2010). They are also co-producers of a play in development, "Adam Mann – Not his Real Name" written by Marin Gazzaniga, that is based on their research. Linda lives in Washington, DC and holds a Master's Degree in Social Work from the Catholic University of America. She is a co-founder of The Clergy Project and Editor of the Rational Doubt blog.
>>>>Photo Credits, Linda LaScola ; FFRF photographer ; (Featured image) By Juan de Juanes – [2], Public Domain, https://commons.wikimedia.org/w/index.php?curid=23065137