Editor's Note: I knew I could count on TCP member, Bruce Gernecser to report on reactions to the Coronavirus in rural Ohio. As it turns out, Bruce got all the fuel he needed with the Republican Governor's church-friendly official statement on the virus. I confirmed that the statement was still in effect on March 14th when this post, reprinted with permission from Bruce's blog, went to press here on the Rational Doubt Blog. Meanwhile, the Pope has cancelled live Holy Week services at the Vatican. Granted, this was after first appealing to the Blessed Virgin for protection. /Linda LaScola, Editor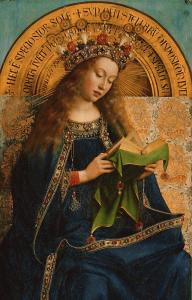 =================================
By Bruce Gerencser
Ohio Governor Mike DeWine issued an order on March 12th, closing schools and banning community and social gatherings of more than 100 people in a single room. Exempt from this order are houses of worship. According to the news outlet Cleveland.com:
The order, signed Thursday by Health Director Dr. Amy Acton after the state has seen five confirmed cases of the coronavirus, specifically says it "does not apply to and/or excludes religious gatherings, gatherings for the purpose of the expression of First Amendment protected speech, weddings and funerals."
Why should churches be exempt?
Are church members and clerics less likely to contract or pass on the coronavirus?
Why should churches be permitted to play by a different set of rules?
Evidently, worshipping the sacrosanct First Amendment trumps the physical welfare of all Ohioans. Perhaps Governor DeWine has read the story out of South Korea; the one showing that the members of the Shincheonji Church of Jesus are responsible for 60 percent of South Korea's coronavirus infections? Churches can easily become hotbeds for infections.
Surely, Governor DeWine doesn't think that churches will do the right thing and cancel their programs and services for the next three or four weeks. If so, the Governor might want to pay attention to social media, especially the accounts of Ohio Evangelicals and Trump supporters. I have read scores of social media posts that say the COVID-19 pandemic is a hoax; one meant to take down King Trump and his administration. Others suggest that God is sovereign and in control, and Christians need not worry about catching the virus. Never mind the fact that most churches, especially in rural northwest Ohio, have an inordinate number of members who are over the age of 60 and in poor health. Should it really be left to Jesus or the power of prayer to "protect" these people from infection and possible death? I think not. As Vice President Mike Pence quickly learned, prayer is no match for COVID-19.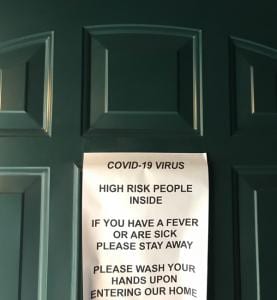 Some local Evangelicals decided to show they flunked fourth-grade math. According to recently published statistics — and I know the stats on the virus are fluid right now — .1 percent of people die from the flu and 1.0 percent of people die from the coronavirus.
How DARE news agencies print hysterical headlines saying that coronavirus is ten times more lethal than the flu, one local genius opined!
Well, dumbass, do the math! And even worse, for people who are over sixty and have health problems, the death rate is 8-10 percent. As the sign and the top of this post shows, my wife and I are taking this pandemic seriously. Not panicking, but certainly doing all we can do keep ourselves out of harm's way. Churches and their leaders must not be given the option of staying open or closing. If all Ohio schools, colleges, and athletic events are closed for the next three weeks, churches should be required to do the same. I would like to think that churches would act responsibly, but when a large segment of our population thinks that "prayer" can cure the virus, we can't expect them to do the right thing. Irrationality always wins over civic and personal responsibility.
This is not about atheism vs. religion. The issue is one of moral and civic responsibility. You know, loving your neighbor as yourself. Do the right thing, pastors, and tell your congregants to stay home until Ohio health officials give the all clear.
**Editor's Question** How is the Coronavirus outbreak being handled where you live?
=======================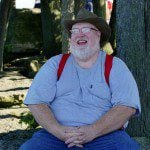 Bio: Bruce Gerencser lives in rural Northwest Ohio with his wife of 40 years. He and his wife have 6 grown children and 12 grandchildren. Bruce pastored Evangelical churches for 25 years in Ohio, Texas, and Michigan. He left the ministry in 2005 and in 2008 he left Christianity. Bruce is now a humanist and an atheist. He is also one of the original members of The Clergy Project, which began in 2011. He blogs at The Life and Times of Bruce Gerencser, where the above post originally appears. It is reposted with permission.
>>>>>>Photo Credits: By Vivien McClain Photography – https://governor.ohio.gov/wps/portal/gov/governor/administration/governor, CC BY-SA 4.0, https://commons.wikimedia.org/w/index.php?curid=80448877 ; By Jan van Eyck – Jan van Eyck, Public Domain, https://commons.wikimedia.org/w/index.php?curid=109231 ; Photo by Bruce Gerencser ; Bruce Gerencser
http://brucegerencser.net/2015/10/dear-christian-friend-and-former-parishioner-am-i-a-good-person/