Editor's Note: Things have changed a lot since "Andy", the atheist UCC minister, last wrote for the blog about his church's nature-focused approach to Lent. At that time, just a month ago, he was telling his congregation: "We're leaving the bloody religion behind and luxuriating in the natural world." Little did he know that the natural world was bringing a plague our way. Needless to say, like all of us, and like most religious groups, he's had to adapt to a whole different scenario. He and his congregation have succeeded beautifully. /Linda LaScola, Editor
========================
By "Andy"
Things are interesting for all leaders of religious communities these days. Three weeks ago (middle of March) most religious gatherings in my region were suspended. The United Church of Christ, my own denomination, has recommended it, as has the Center for Disease Control. We will continue to follow national protocols from the UCC and the CDC.
We expect to be closed for Easter, of course. As a progressive congregation, we are ignoring the President's 'aspirational' call for practitioners to crowd their respective buildings for Easter. As with other rational people, we trust science and scientists.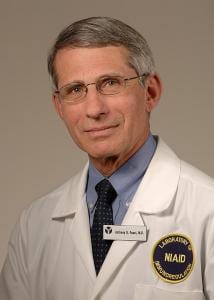 Our building is closed, although there are three of us who check in separately throughout the week to collect mail and survey the property. A staff member, who reports relevant information to me, collects phone messages and emails externally. Our governing body, the Church Council, has started meeting electronically, via Zoom, which seems to be the preferred platform of our sister churches in the area.
Our main objective during the quarantine is to remain connected. I use Zoom on a weekly basis to record videos and 'sermons', which are then posted on our website and Facebook page. This has been an interesting part of the sequestration experience so far. Having decided before the season of Lent to 'give up Lent for Lent', and address themes of nature instead, I have found the video platform to be more helpful than the traditional pulpit presence of a service in the sanctuary. My themes (earth, mountains, sky/storms, flora/forests, fauna, and the sun) are better presented as on-line lessons than as sermons. Zoom allows me to import slides, word manuscripts, music, and video snippets into the presentation. Frankly, I'd rather continue doing this than address a gathered crowd from the esteemed and elevated lectern!! These videos have the flavor of conversations, like FDR's fireside chats during the Great Depression and World War II.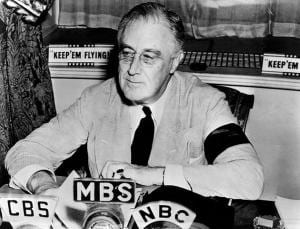 They evoke, at least in me, a kind of coziness. I feel oddly warmed by knowing I am talking not just to a computer camera, but also to families I can visualize as I speak.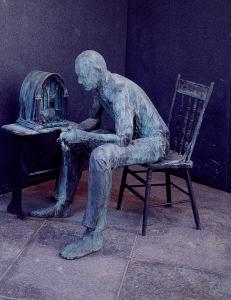 Response has been quite positive. Each week my audience expands as more and more people learn of these videos and schedule a time to both watch and respond. I've had emails and phone calls reacting thoughtfully to the material I've presented. I couldn't be more pleased.
The content itself (nature) is conducive to the worldview of an atheist pastor or parishioner. What better theme than the glorious realization that we are part and parcel of nature, and the part we play is not to consider ourselves above or over it, but simply to be a part of it—and a LATE part of it, to boot!! For example, one might argue that "this is not our world with trees in it, but it's a world of trees where humans have just arrived" (The Overstory, by Richard Powers). I argued that the symbiotic relationship we have with trees serves as an example of how all life on earth is interconnected and that we sustain a relationship of reciprocity with our natural world. It is not ours to rape and pillage; it is ours to nourish by giving back as much as we take. Great material for the 50th Anniversary of Earth Day that is upon us!!
Beyond these weekly videos, I spend time every day connecting with my members by phone, checking on them and encouraging them to call others. In this way we are a congregation without congregating, as I am fond of saying. A very interesting insight has dawned on me, as I reflect on the past three weeks of distancing. Every parishioner I have called, to date, has expressed how s/he misses being together. It's never the sermon, the choir, the sanctuary itself, OR EVEN the 'presence of God'. It's missing one another, which I take to mean that Maslow was probably correct in arguing that belonging is one of the basic needs of the human psyche.
My congregation looks forward to the time when we can be together again, laughing, embracing, sharing laughter and tears. It confirms what I have believed for years, that there is still value to be found in the religious assembly, at least in ones that are stridently progressive and care little to nothing about the metaphysics of God or the afterlife. I am lucky to have found such a home, where we focus on life here and now, and believe that service to our world is the rent we pay for living in and on it.
====================
Bio: "Andy" is a former Southern Baptist Minister, who is currently a Pastor in the United Church of Christ. He plans to retire in the church, despite his rejection of metaphysical speculation (God, salvation, heaven, etc.). His life has been an evolution from traditional theism, to non-theism (via Tillich and Spong), to agnosticism (via linguistic philosophy), to 'incipient atheism' (via secular humanism). He holds a PhD in Biblical Studies from a major American university.
>>>>>Photo Credits: By NIAID – Anthony S. Fauci, M.D., NIAID Director, CC BY 2.0, https://commons.wikimedia.org/w/index.php?curid=82983928; By Carol M. Highsmith – This image is available from the United States Library of Congress's Prints and Photographs division under the digital ID highsm.13988.This tag does not indicate the copyright status of the attached work. A normal copyright tag is still required. See Commons:Licensing for more information., Public Domain, https://commons.wikimedia.org/w/index.php?curid=40682093 >Sculpure