Editor's Note: Full Disclosure: This post was set up before Tuesday, November 3rd, the US presidential election day, to free up time to focus completely on election results and analysis. This may have involved sleepless nights, heavy drinking and hopefully raucous celebrating. Let's hope the election turned out the way readers of this blog wanted it to and that there will soon be a transition to a sane USA. Meanwhile, this post, quickly and artfully created at my request by Rational Doubt stalwart, Mason Lane, is a modern day Beatitudes for our hopefully outgoing President. If Trump were familiar with this famous Bible passage, and if he were honest, this is certainly what he would say. / Linda LaScola, Editor.
Editor's Update 11/4/20 6PM: Still counting votes! Biden ahead! Trump requests recount in Wisconsin!
========================
By Mason Lane
Blessed art my corrupt judges who crush my indictments
Blessed art the pardoners, I shalt reward them richly
Blessed art the victims of my sexual predation, for their suffering in fear and silence.
Blessed art the doctor who found a bone spur where none beath
Blessed art the Russian mob bankers, they saved my arse
Blessed art my father for leaving me $413 million to squander
Blessed art the pages of all my bankruptcies preserved for posterity
Blessed art my minions who believe anything I say, anything
Blessed art the founding fathers who couldn't foresee a sociopath like me
Blessed art Lord Putin my King
Blessed art all the peons I've fired on the altar of my ego
Blessed art non-maskers who have died for my herd immunity great plan
Blessed art my servants Barr and McConnell who now reside with me
Blessed art thou White House bunker, we will never leave thee.
**Editor's Question** What additional beatitudes do you have to offer?
=======================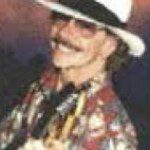 Bio: Mason Lane: As a credulous child, I was raised Christian fundamentalist Baptist. I later became a glory-shouting Pentecostal and was ordained by the Christian Faith Church Pentecostal in Mishawaka Indiana. I ceased believing in the irrational and supernatural at age 30, thanks primarily to reading the Bible while thinking. At the time of my de-supernaturalizing, I was General Manager of WHME-FM radio station, a Christian radio station, and Pastor of Christian Faith Church in Mishawaka, Indiana. I resigned both positions and moved to Phoenix, Arizona where I became dean of students at DeVry University.
I'm still a person of faith. My faith is now in science, nature, love, friends, family, music, humor, art, The US Constitution, the 5,000 year old Golden Rule and Separation of Religion and State.