By Linda LaScola, Editor
Were you glued to the tube yesterday? I was.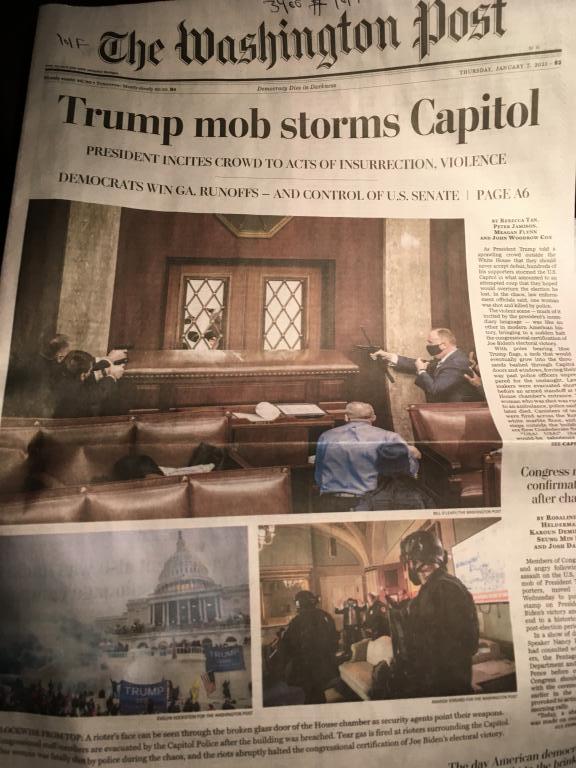 https://www.washingtonpost.com
It was hard to believe what was happening at the Capitol, even though our soon-to-be-gone President certainly encouraged such bad behavior – officially questioning the outcome of the presidential election, which he lost, fair and square.
The US Capitol is not just a building across town, four miles from my home.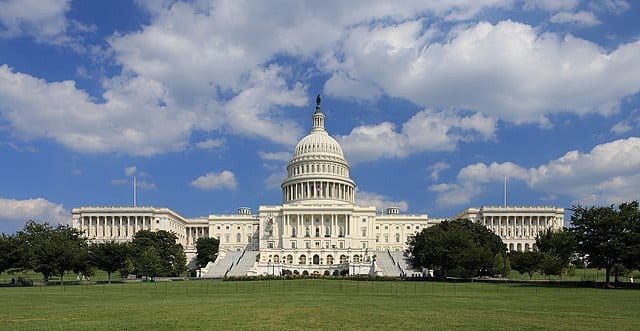 It's where I worked as a tour guide for five years while attending graduate school. The guides' "office" was the Rotunda, where the tours began. Whenever a deceased national hero was lying in state there, we guides got the day off.
Although the repetition of the job drove me nuts after a while, it was wonderful being in the middle of things.
I loved watching bigwigs, like Henry Kissinger, walk through the Rotunda, surrounded by secret service guards.
I loved knowing in advance that "something big" was going to happen the day of the Watergate hearings when Nixon's White House audiotaping system was revealed.
I loved seeing members of Congress scurry in the opposite direction when they saw me coming around the corner in my red guide's jacket. (They feared there was a group of tourists behind me who would be eager to chat them up and get their autograph. Then, if they didn't scurry fast enough, their faces would turn from horror to obsequiousness, as they feigned interest and talked with tourists. The exception to this behavior was Hubert Humphrey. He loved people.)
Yesterday's events were nothing like anything I'd experienced as a Capitol guide in the 70's. More than anything, it reminded me of 9-11, with the curfew and the sirens that could be heard across town in my neighborhood. I took a walk that day too; marveling at the long, slow line of traffic, all headed in one direction – out of town.
This pandemic year, 20 years later, the streets were empty. Most people were already working from home, watching the events unfold on TV or plugged into earphones like me.
Once home, Art and I – like so many other people around the country and the world, watched on TV as Senators McConnell, outgoing Senate Majority Leader and Chuck Schumer, incoming Majority Leader, (thanks to Democrats winning the two run-off Senate races in Georgia) both spoke eloquently about the horrible day's events and the need to honor our democracy.
"I think I'm going to cry."
I told my startled spouse. The very sight of McConnell being humble for once was enough to move me to tears.
Then we heard Nancy Pelosi, Democrat, Speaker of the House, when she recited the St. Francis prayer, on that day, January 6th, which also happens to be the Feast of the Epiphany.
Lord, make me an instrument of your peace.
Where there is hatred, let me bring love.
Where there is offence, let me bring pardon.
Where there is discord, let me bring union.
Where there is error, let me bring truth.
Where there is doubt, let me bring faith.
Where there is despair, let me bring hope.
Where there is darkness, let me bring your light.
Where there is sadness, let me bring joy.
These are excellent thoughts, even for those of us who don't believe in saints. Except for the reference to "Lord", St. Francis sounds like a humanist.
Leaders at the National Cathedral also spoke out eloquently in a videotaped statement.
Marianne Budde, Bishop of Washington:
"Mr. President, there has been no fraudulent election. You called your supporters to our Capitol, you fed their wild fantasies and conspiracy theories, you whipped them into a frenzy; this is not acceptable,"

"Let us be clear to those who see this as a Christian endeavor, or something to be blessed in the name of Jesus, there is nothing Christian about what we are witnessing today. Nothing."
Cathedral Dean Randolph Hollerith:
"You have succeeded in that you have been seen and been heard. You have made your point. Now lay aside your violence, give rest to your anger and go home. Violence is not the answer. It does not aid in your crusade."
**Editor's Questions** How did you spend yesterday? What do you make of all this?
=======================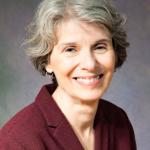 Bio: Linda LaScola is co-author, with Daniel C. Dennett, of Caught in the Pulpit: Leaving Belief Behind (2015) and "Preachers who are not Believers"(2010). They are also co-producers of a play in development, "Adam Mann – Not his Real Name" written by Marin Gazzaniga, that is based on their research. Linda lives in Washington, D.C and holds a Master's Degree in Social Work from the Catholic University of America. She is a co-founder of The Clergy Project and Editor of the Rational Doubt blog.
>>>>> Photo Credits: By Martin Falbisoner – Own work, CC BY-SA 3.0, https://commons.wikimedia.org/w/index.php?curid=28359031 ; By Philip Fruytiers – http://www.kmska.be, Public Domain, https://commons.wikimedia.org/w/index.php?curid=31323512