Editor's Note: "Andy" has been waiting for this moment for years. I've been waiting since 2011, when I first interviewed him for the "non-believing clergy" study. While he loved the social justice work he was able to do in his liberal church in a very liberal denomination (UCC), he was also eager to be totally free of the God constraint. Like most recent retirees, he is still trying to figure out how to organize his life. Also, he seems relieved that he no longer has walk the fine line he constructed that allowed him to represent a god he didn't believe in, in order to do good works in his community. I'm hoping for the day when society no longer feels that civic-minded, humanistic people like Andy need the credibility of being clergy, i.e., calling upon a higher power, to do good in the world. /Linda LaScola, Editor
======================
By "Andy"
And so it begins . . . the rest of my life!
Freshly retired and 'Medicared', I am now free from a career (pastor) that expects devotion to a deity. What a relief! My journey has been full of some remarkable changes—from fundamentalism to atheism, from the John Birch Society to socialism, from the Southern Baptist Convention to The Clergy Project, from a Bible College diploma to an advanced University degree.
How'd that happen?!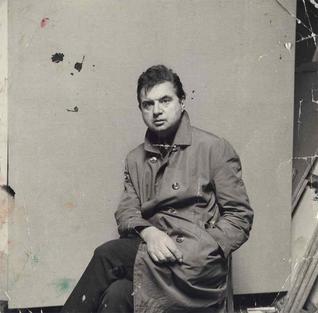 Francis Bacon (the 20th century artist, not the 16th century statesman) may have the answer:
Man now realizes that he is an accident that he is a completely futile being, that he has to play out the game without reason.
I take 'accident' to mean chance, not misfortune. My journey happened not by design—either divine or human—but by a random convergence of circumstances I could not have planned or anticipated, and to which I merely responded. Life is accidental. I take the same meaning from Bacon's disavowal of 'reason'—some ordained script for our lives that we can rationally discern and follow.
It was never my intention to become an atheist, or to leave the confines of my native faith. From the benefit of hindsight, I assign my defection to two influences: historical-critical analysis of the 'sacred' text, negating my belief in a 'supernaturally-inspired' Bible, and the attitudes and behaviors of Christians, negating my trust in the power of reason and compassion to prevail among the general Christian populace. (Christian worship of Trump was the nail in the coffin.) In other words, I suppose I could still be Christian if it weren't for the Bible or for Christians!
Before retiring, I had developed enough trust with two of my closest progressive, pastoral colleagues to share with them knowledge of my theological infidelity. The reaction was supportive interest and promised anonymity. I introduced both to The Clergy Project. One now has a copy of Caught In The Pulpit.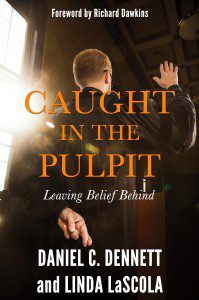 I'm delighted to have been able to share this intimate knowledge with others suffering from the tyranny of 'bible-believing' Christians.
I have not divulged this to members of my recent congregation, although hints have been strong, especially in the past few years. I've openly rejected the notions of a personal god, an afterlife, sin, and miracles, et al.; from the pulpit and in articles I have written for the local paper and the church newsletter. I'm pretty satisfied with the level of honesty I've maintained. I carry no guilt for the modest dissimulation I may have practiced, because it allowed me the freedom to organize social-justice efforts in my parish neighborhood.
Only eight weeks into retirement, I do not yet have my 'retirement legs'. I'm mostly dabbling these days, doing some reading, working on my lifelong hobby (model railroading), and simply unwinding. But as the days turn into weeks and months, I will more energetically pursue causes aligned with my humanistic, political and environmental concerns—organizations like Planned Parenthood and Sierra Club, to name a few. One can't be a dilettante forever!
My wife continues to practice her trade in the financial services industry; she supports me fully in both my retirement and my 'apostasy'. She enjoys the time I now have to support our lives by grocery shopping, cooking and, yes, cleaning.
Our furry children, the latest rescue shelties to own us, also bring supreme joy to our lives.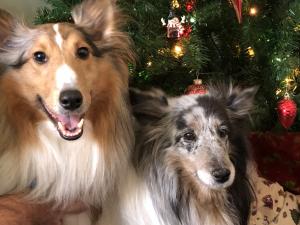 I will continue supporting our local Sheltie/Collie rescue group by offering transportation services for dogs on their way to waiting clients. For me, there's just something about dogs. They teach us so much, especially the joy of living in the moment, and the potential for friendship with anyone who crosses our paths. Dogs seem to be able to do this without reserve—AND, without religion. They must know something.
In retirement, I'm following their lead!
**Editor's Questions** Just a guess: Do you think some of Andy's congregants may have caught on to his non-belief? Do you think any of them have become non-believers or major doubters because of Andy's influence?
=================================
Bio: "Andy", a former Southern Baptist Minister, is a recently retired Pastor in the United Church of Christ. He retired in the church despite his rejection of metaphysical speculation (God, salvation, heaven, etc.). His life has been an evolution from traditional theism, to non-theism (via Tillich and Spong), to agnosticism (via linguistic philosophy), to 'incipient atheism' (via secular humanism). He holds a PhD in Biblical Studies from a major American university.
>>>>>>> Photo Credits: By John Deakin – https://alchetron.com/John-Deakin-1371488-W, Fair use, https://en.wikipedia.org/w/index.php?curid=54223796 ; https://www.amazon.com/dp/B00UQYA12M/ref=dp-kindle-redirect?_encodin=UTF8&btkr=1 ; Shelties, by "Andy"