By Linda LaScola, Editor
Looking at my Easter music post from last year, I see that the focus was on how different life was, responding to the COVID pandemic. I said:
"I am really, really, missing Easter this year. I know I'm not the only one, but I may be one of the few atheists to feel this way. Anyone who has read this blog with any regularity knows that I'm a big fan of classical church music and that Easter is the best time for it."
This year is different, too, right? This year we're having yet another COVID Easter. Religious people are still urged not to go to church. In many places, churches are simply not open.
But glorious Easter music is still out there for everyone to appreciate. And it's still springtime, which is what Easter is all about. Springtime and music.
This year, with Easter coming earlier, we have cherry blossoms in DC. Here's the view from the Tidal basin this past Monday.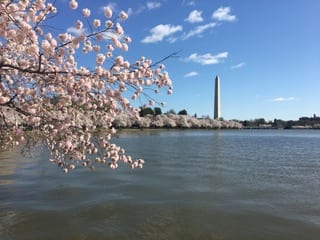 The good thing about the pandemic is that it means fewer crowds.
It's still too early for the azaleas that we had last year at Easter.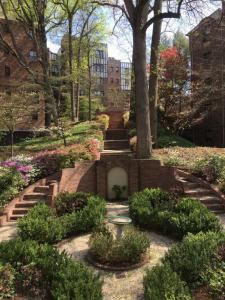 But they'll be coming soon. And all the flowers are much more appreciated this year, after a long winter of walking in barren woods and empty neighborhoods. Clearly, my "pandemic walking" started this time last year, when everything else was suddenly closed. There was no gym, no theater, no movies. But somehow the memory of a glorious spring got smothered by pandemic fears. Spring 2020 must have beautiful, as ever, but Spring 2021 is extraordinary – fused with hope for the future, instead of last year's terrors, and literally injected with the optimism that the vaccine brings.
And we have not been deprived of music.
Some of my favorites were mentioned here during previous Easter seasons.
And here are selections offered by Rational Doubt blog commenters in years past. Adagio for Strings by Samuel Barber
Agnus Dei, also by Samuel Barber
Jubilate Deo by Libera
Soon, we hope there will be plenty of safe opportunities to be physically present with people. Meanwhile, our "fellowship" here has always been done on line. So let's continue our spring tradition and enjoy some beautiful music together.
==========================
Bio: Linda LaScola is co-author, with Daniel C. Dennett, of Caught in the Pulpit: Leaving Belief Behind (2015) and "Preachers who are not Believers"(2010). They are also co-producers of a play in development, "Adam Mann – Not his Real Name" written by Marin Gazzaniga, that is based on their research. Linda lives in Washington, D.C and holds a Master's Degree in Social Work from the Catholic University of America. She is a co-founder of The Clergy Project and Editor of the Rational Doubt blog.
>>>>>>Photo Credits: by FFRF 2016; By Fra Angelico (circa 1395–1455) – Web Gallery of Art: Image Info about artwork, Public Domain, https://www.youtube.com/watch?v=IX1zicNRLmY ; https://commons.wikimedia.org/w/index.php?curid=15451039 ; https://www.youtube.com/watch?v=HmUw-zyklYQ ; https://www.youtube.com/watch?v=2EGbMm5UqJs ; https://www.youtube.com/watch?time_continue=4&v=KylMqxLzNGo&feature=emb_logo