Editor's Note: "Life of Brian" became one of my favorite films when I first watched it about 10 years ago. Before that, I had avoided seeing any Monty Python films after seeing one in which human waste was being pushed over castle walls to ward off the enemy. Funny in its own way, I guess, but nothing I ever wanted to see, not to mention to pay money for. I finally watched "Life of Brian" as an antidote for Easter, which I no longer believed in. Not only did I find it funny, but I also attributed its popularity to the decline in Christian belief since its release in 1979. It was beyond irreverent; it completely ridiculed religion. I was surprised that I was not aware of the religious establishment loudly panning it. I only knew it as another highly successful, thoroughly disgusting Monty Python film /Linda LaScola, Editor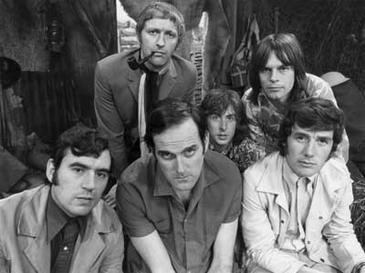 ============================
By Bob Ripley
Yesterday, a fellow runner who knows me well asked me as we pounded the path, if I'd watched Life Of Brian yet. He remembered that viewing it is a personal sacred Holy Week tradition and I was able to confirm that yes, I'd viewed it the night before.
Whether it is my deep Anglican roots or former Methodist vocation, I warmed up quickly to the controversial Life of Brian, released in 1979. Life of Brian in case you don't know, is the tale of an accidental messiah Brian Cohen (the late Graham Chapman) who is born in the next manger over from Jesus'. When the Magi mistakenly bring him their famous gifts fit for a king, Brian seems destined to a life of mistaken identity.
Despite an overbearing Jewish mother (played by Terry Jones), Brian leads a fairly normal life working as a vendor of snacks at the local coliseum. He loves women and hates Romans. He joins the radical People's Front of Judaea, (not to be confused with the one-man splinter group, the Judean People's Front) but is aghast at the frothing certainties of these faux terrorists who cannot rouse themselves to any action. ("Right, this calls for immediate discussion")
A throng of locals, however, decides that he's the messiah and begins worshipping him with devotion that verges on the violent.
Plus ça change, plus c'est la même chose.
Brian vainly tries to get people to see the obvious and to think for themselves. Not a chance. His is blindly pursued by admirers, arrested, brought before a bug-eyed Pontius Pilate and sentenced to die in the open air with other ne'er-do-wells who sing and whistle their way into paradise.
The film was almost never made when EMI Films withdrew from the project fearing that it was too controversial. Python Eric Idle's close friend and ex-Beatle George Harrison ended up financing the film with $4 million of his own money. In return, Harrison was given a cameo role.
The cast is a repertory of rotating Pythons. When he's not lisping as a gay Pontius Pilate, Michael Palin is a bitter ex-beggar blaming Jesus for ruining his business by curing his leprosy.
It was risky business when Life of Brian made it across the pond and grossed $20 million in the U.S., the most of any Python film. The comic take on the New Testament was a lighting rod for controversy, attacked by religious groups from the Rabbinical Alliance of America to the Roman Catholic Church. There was, however, no anti-Semitic backlash or reported instances of stoning.
The furor fuelled the film's popularity. It was banned in Norway, and since the Swedes regard the Norwegians as having no sense of humor, the Swedish distributor billed Brian as a film "so funny it was banned in Norway".
Offense at Life of Brian, though sincere, is misdirected. Nowhere in the film does it say that God doesn't exist and nowhere in the film does anyone insult Jesus. The two appearances of the Christ (his nativity and famous sermon) are done straight and in good taste. When those at the back of the crowd have difficulty hearing the Sermon on the Mount, ('blessed are the peacemakers' is heard as 'blessed are the cheesemakers'), it is not a critique of the blessed sermon but those who mangle and misinterpret the message.
The Pythons are scholarly jesters whose scorn is reserved for the intolerant and gullible. Brian brims with passionate exasperation at pompous committee meetings and rivalry among those with a common cause. He is equally annoyed by the mob's lack of discernment and their petty supplications. ("Messiah, I'm afflicted with a bald patch!")
Monty Python's movie is a brilliant portrayal, not only of the folly of human nature but also the resolute optimism that can, at times, help us muddle through the darkness. As those who are about to die intone, "Always look on the bright side of life."
The film is currently available on Netflix.
**Editor's Question** If you've seen Life of Brian, what did you think?
=============================

Bio: Bob Ripley, a Clergy Project member was a syndicated religion columnist, broadcaster, former preacher and author of Christian devotional material. His book which came out in October, 2014 is titled Life Beyond Belief: A Preacher's Deconversion. Find out more about the book and his other writing here. This post is reposted, with permission from his blog.
>>>Photo Credits: https://www.youtube.com/watch?v=8lN4TSslz-0 ; By BBC – http://www.bbc.co.uk/comedy/guide/articles/m/gallery/montypythonsflyi_1299002137_2.shtml, released for free downloadoriginally listed differently, when i sent an inquiering e-mail i got the response back that I had inquired about a promotional photograph, so have relisted it, https://en.wikipedia.org/w/index.php?curid=6130072