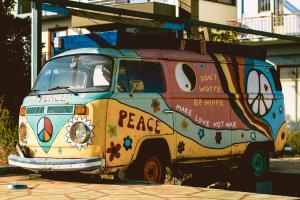 I was too young to fully embrace the "summer of love", but I was old enough to sing hippie songs.  I remember my mom playing the radio all day as she worked around the house. Sometimes it was pop music, sometimes easy listening. The dial turning between the Phoenix stations, KOY, KOOL, and KQYT. Sometimes, the more mellow, less confrontational hippie music would creep in.
I was barely old enough to remember, but I remember the Beatles on Ed Sullivan in 1964. I think I remember my dad saying that they needed a haircut. My dad would make many comments about haircuts over the next several years.  Maybe that's where my oppositional character emerged. I liked the music; my dad didn't. My mom was agnostic about it.
The youth culture that emerged after the Beatles would make the Fab Four's Ed Sullivan performance comparatively quaint.
Four Dead in Ohio
I wasn't an adolescent yet, and there were four dead college kids at Kent State in Ohio. Even a child could know that was wrong. I was  raised on a steady diet of John Wayne and playing with G.I. Joe, yet I knew that soldiers were not supposed to shoot at college kids in the United States.
The animosity and protest that engulfed Kent State in May of 1970 had been percolating for several years. Notably, 1967 a large protest in response to increased US presence in Vietnam, witnessed 100,000 protesters at the Washington Memorial. In those years, the music went from, "I wanna hold your hand," to "I'd love to change the world":
World pollution, there's no solution
Institution, electrocution
Just black and white, rich or poor
Them and us, stop the war.

I'd love to change the world
But I don't know what to do
So I'll leave it up to you (Alvin Lee, 1971)
Woodstock solidly transitioned youth to become a voice for a civil rights, feminist emergence, communal living, and anti-war politics.
Our Present Chasm
Professor Lukensmeyer of Washington University notes:
The phenomena we're seeing post-2016 hasn't been seen in modern political history, which is once the election was over, people – ordinary people – Americans who voted for Trump continued to demonize and hate Hillary voters and vice versa. And that's still going on today two years later. The National Institute has actually had calls from major U.S. corporations. We have product innovation teams that have not come back to the same level of productivity since the election….This is a very different phenomena. It's like a virus in our society. That is different and new (Rhetoric in Media in Politics, NPR).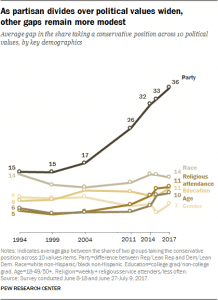 In a 2017 study by Pew People and the Press, political differences became much more pronounced. Pew reported, "since 1994, the average partisan gap has increased from 15 percentage points to 36 points." Political values become the most powerful force for separating us. We're getting further apart.
Looking to Find the Hippie Vibe
It started with The Mowgli's several years ago when San Fransisco was released. Maybe I was primed for it with The Polyphonic Spree with joyful choir sound. Made popular in Eternal Sunshine of the Spotless Mind with Light and Day. To keep the feeling growing, then came The Strumbellas.
These songs clicked with my inner hippie. And then I heard songs of the Summer of Love, all over again. National Public Radio began a series in 2019 called, American Anthems. One of the songs I probably heard on my mom's radio by the Youngbloods, I knew the words, and I missed the feeling of innocence and hope.
Get Together
National Public Radio started playing a song I hadn't heard in years:
Love is but a song to sing
Fear's the way we die
You can make the mountains ring
Or make the angels cry
Though the bird is on the wing
And you may not know why
I knew all the words without even having to pause. The words were all there, not having been heard in decades, I could sing through the whole song,
Get Together
.
Jesse Colin Young, of the Youngbloods may have altered the words to hint at his Christian faith:
When the one that left us here
Returns for us at last
We are but a moment's sunlight
Fading in the grass
Alluding to divine transcendence and immanence in a few lines, reminding us our vulnerable humanity.
for they will soon fade like the grass, and wither like the green herb Psalm 37:2
Young told NPR:
"Every night I sing it, it's my favorite part of the show because the people sing," he says. "I played it in Central Park this past summer, and that was on the first anniversary of Charlottesville. Those people sang it stronger than I've ever heard it sung. Some people were pumping their fists, and I realized they were saying, 'We choose love.' "
What Do We Need from Hippie Songs?
1. Choral singing is good for us:
2. Songs alter our point of view:
We need songs that transcend, without getting religious, but move into Bonhoeffer's "world come of age" –
Imagine, John Lennon
3. Smiling is good, happy songs need not be shallow:
4. Reminding us of our basic need:
5. Rallying to a higher ideal gets us out of ourselves:
We need songs that make us mindful injustice, but calls on hope to restore us, not just woke realism –
Freedom, Richie Havens
6. Love is the greatest:
---