Yesterday, my eldest son ran in his first ever Cross Country meet. I don't know if you've ever been to one, but they begin ridiculously early (7 am) and are usually held out in a field somewhere. I don't know why I thought "Cross Country" meant they ran a long way rather than being a description of the terrain. I was wrong. It's a hike from where you park to the Start line, and a workout just to be able to keep your eyes on the racers. There were mosquitoes and sticker patches aplenty, and nowhere to sit unless you'd brought a chair for yourself…and I hadn't. ( I will next time. I'm still new at this.)
He had only joined the team two weeks ago when his evil mother, noting that heart disease and obesity run in our family, forced him to pick something sports-like to do. That's how my son, who had only run more than a couple miles once in his life, ended up on the Cross Country team and preparing to run a 5k on Saturday morning.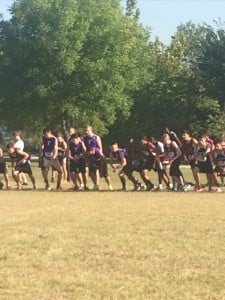 We were all thrilled (and a little surprised) when, after only a week and a half of practice, our famously non-athletic child had survived the cut and made the JV team. On Saturday morning, his coach told me the reason why. "He's not the fastest runner we have. There's nothing to say that we won't be. He's only been training for more than ten days. We'll have to wait and see on that. But what impressed me about him is that even when he's last and tired as hell, he refuses to walk. He'll be holding his side and limping a little, barely moving his feet, but it's a shuffling run. He just won't stop trying."
I smiled in appreciation for his kind words, but it wasn't my experience with the little boy who got so easily frustrated and quit almost everything he tried. I had no frame of reference for the determination he was describing.
And then I saw it coming over the hill at me.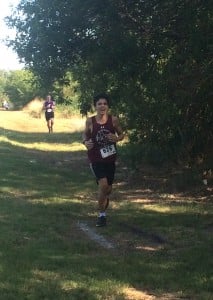 A mile and a half into his 3.2 mile race, his face was twisted with pain and I could hear his asthmatic wheeze as he plodded past me. I yelled at him to "breathe out", and he waved that he had heard me, but  never broke his stride.
Determined to finish, he ran on.
I stood on the final hill, and followed his slow and steady progress around that large open field. He stumbled once as he rounded the last corner, but came up still running steady. As he passed me for the second time, he wheezed with an unsteady smile as I hollered, "You're almost at the end! RUN!!!!! " and he did. He poured his everything into those last 2oo meters. He sprinted as fast as his exhausted legs could carry him, overtaking three runners to finish 31st out of 49.
He was beaming with accomplishment and dripping in sweat when I finally caught up to him. He hugged me to his man-child funkiness, and kissed me on the cheek. "Thanks, Mom, for coming to watch me." Then he went and plopped down on a blanket with his teammates.
That was when it all hit me. He's growing up. The frustrated boy is becoming a determined man. He's learning that there are more important things than comfort, and that having people to share it with makes it all worth it in the end.