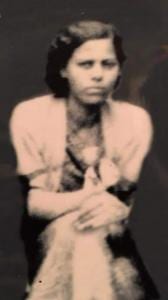 I had not seen a photo of my grandmother, Mary Coston Wise until last week when her graduation photo was discovered tucked away in an old shoebox. It was 1935 and planting season in Accomack County, Virginia. While farmers tilled soil and sowed their seed Mary Coston's hands knew no calluses. She was a student who excelled academically and completed high school early. Mary married her beloved Robert Wise and gave birth to three sons, Robert Jr., Edward, and Curtis. Soon a tuberculosis outbreak ran throughout the county leaving devastation in its wake. On a frigid morning in December 1939 at 2:20am Robert passed away and, baby Curtis soon followed. In November 1940, two days before Thanksgiving and on the day that the new TB hospital for coloreds had a vacant bed, Mary passed away. She was 22 years, 4 months, and 9 days old. 
Finally, I see you.
Weathered black, white
shades of brown.
I weep from longing.
You are eighteen
with furrowed brow
wearing your Sunday best.
It's Accomack County graduation day,
1935. Did you know your arms,
legs crossed, could not shield you
from past, present, future tense?
Did you know your marriage
ends in sweating, coughing,
fever, shaking?
Did you know hospitals are for whites only.
Your uncle, husband, baby boy gone, then you.
Your orphan sons left motherless, aching.
Did you know one day
I'd see you and lament
countless ancestors sacrificed?
Did you know today
I'd seek repair
for countless ancestors sacrificed?