Materialistic? Not me, but downsizing taught me this about my attachments: letting go hurts. Turning loose of my baggage felt like ripping off a limb. It was also an opportunity for growth. I discovered that the stuff I was letting go included memories of a life lived and shared in time and a very particular space. Downsizing made me grateful.
About a year after my husband Jerry died, I decided to sell the home we'd shared for nearly 30 years. I'd bought a condo half its size. I dreaded getting started, but now I had a buyer for my home. D-day had come. I thought my choices were limited: give it away, throw it away or sell it. But I discovered another option: Relinquish it.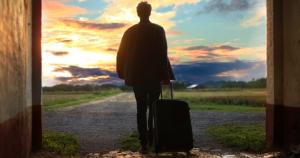 Relinquishment is active; loss is passive. We don't have to "suffer" loss. We can freely offer up our loss, our stuff — to the universe. (A person of faith might say we return it to God, who loaned it to us in the first place.)
 Picture a butterfly landing in your open palm. It delights you for a while. Then it flies away. If you close your fist, you kill it. Clinging is fear-based. Relinquishment expands our view of reality from scarcity to plenty. I'm free to let this butterfly go, trusting that another butterfly (or something equally lovely) will appear whenever my soul hungers for beauty.
The furniture was easy. I gave away or sold it for bargain prices to people who needed it. It still looked nice but had been around a long time; I wanted something new. I was surprised by how much joy it gave me to see young people smiling as they carried away a recliner or love-seat or table. I kept my piano, but otherwise I wouldn't miss the furniture.
The books were harder. Overflowing bookcases covered the walls of my living room, den, home office, and basement. Jerry and I both loved to read. Dog-eared favorites included classics, biography, history, novels, poetry, drama, theology. I gave wonderful books to delighted friends and relatives. Others went to church with a "Help Yourself" sign. They vanished.
"There's always the library," I told myself. I was surprised to find myself happy in blessing friends with my books. Little by little I was getting freer and even enjoying it. Unfortunately, after 250 books disappeared, I had at least that many left. Spanish books evoked El Salvador and Mexico, deep friendships, and my four Latino godchildren. College texts recalled days as a student and young teacher, learning to think critically and exploring the deeper meanings of my life. Theology books awakened my contemplative side.
I sighed and boxed the keepers. Where would they fit? Like Scarlett O'Hara, I told myself, "I'll think about that tomorrow."
Then there were dishes: porcelain gold-rimmed china, sterling silver, crystal. Hand-made salad bowls signed by the potter. They came from around the world. I loved them, but worried there would be no space in my new home. I generously offered them to my three daughters. With a few important exceptions, my glamour was their clutter. Either their limited space or their lifestyle made fancy dishes excess baggage.
"Thanks, Mom, but if I can't run it through a dishwasher I don't want it. I don't have time to wash dishes by hand." Or, "We don't give the kind of dinner parties you did. My friends and I prefer cookouts."
Me: "But this belonged to your great-grandmother!"
Them: "Sorry, I don't have room."
My first reaction was anger. That morphed into disappointment and a feeling of rejection (of my offer, my lifestyle, myself). After licking my wounds I realized my ego needed trimming. My "offer" veered dangerously close to a demand. It was time to get over it.
Still, I could not bring myself to give my treasures to strangers or sell them on eBay. I resolved to use them for everyday eating. If they break, that's life. Like "ashes to ashes," I'll return the broken crockery to the universe with a quiet prayer of gratitude.
What to do with relics from well-loved careers? Jerry was a Secret Service hero. He left boxes of photos signed by Presidents and international leaders, personal letters and loose photos that need to be digitized and saved online. My own framed certificates, awards and bound opinions from 16 years as a judge occupied more boxes. They'd filled a need to be recognized and appreciated. Letting these symbols of "success" go was tougher than anticipated.    
I confess — I had to rent a storage unit after all. I hope to finish sorting everything before I die so my children will be spared this onerous task.   
Oh, well. As the Lord and all my friends know, I'm still a work in progress.

Leaving Home
As I closed the door and walked away for the last time, emotions flooded me. Grief for the loss of Jerry and the suffering he'd endured. A tug of regret that never again would I see our holly tree brimming with cardinals.
Gratitude for our little faith community that met in our living room when Jerry was too weak to leave the house. He'd take a tiny piece of communion bread, ball it up in his fingers, and press it to his heart when he could no longer swallow.  
Our home had witnessed many life markers: a wedding, receptions, a baptism, a funeral, receptions, It had been a haven for folks who needed one: a Salvadoran family fleeing a hit squad; a law student and children whose furnace died in the middle of winter; people who needed free rent to get out of debt. My parents in their last few years.
A friend called our spare bedroom "the Jesus room" because she saw it as a refuge for the lost and lonely. Sure, I'd be hospitable in my new condo. But communal living was over. 
Jose Hobday, a Franciscan nun whose mother was Native American, explains the difference in a "Native" loan and a conventional American loan. The Native loan is like receiving a gift in an open palm. The recipient repays it — not always to the lender but to whoever needs it most.
I've come to see relinquishing my possessions as a dress rehearsal for accepting more serious losses on my horizon: health, friends, eventually my own life.  
I'm learning to hold them lightly — with an open palm, trusting God for his next precious gift.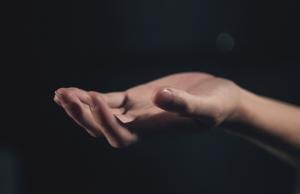 photo credit: Mantas Hesthaven / Pexels
photo credit: Pixabay