The blog psnt.net had a post on not assuming a spherical Jesus, which inspired me to explore the same analogy with the Bible, leading me to draw this cartoon.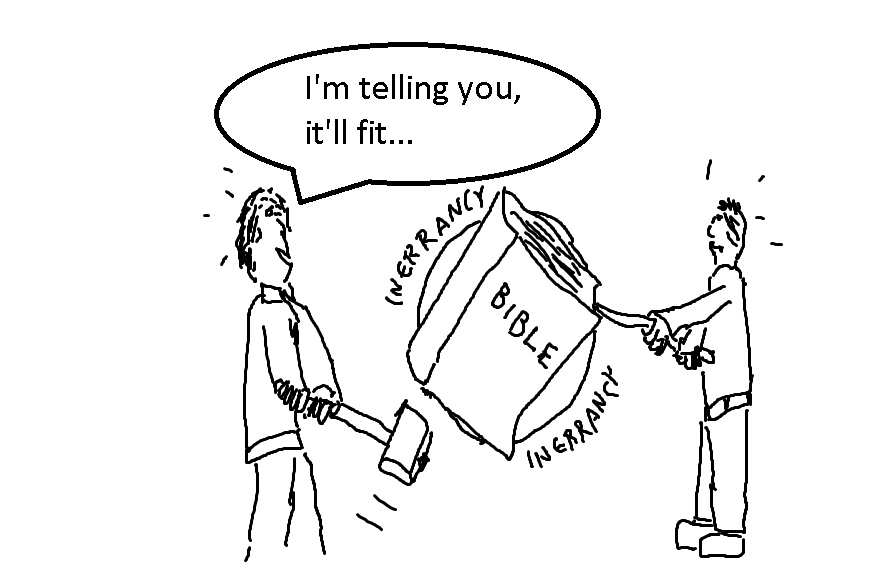 The original post begins with the tendency of theoretical physicists to posit an "ideal" state that doesn't correspond to any actual reality but makes calculations possible. There is a very real sense in which those who claim the Bible is inerrant do the same. They posit what the Bible must be and then work as hard as they can to get the Bible to conform to their presuppositions, their pre-existing doctrine about Scripture.
The Bible then becomes a liability to them at the same time as an authority. Instead of focusing on living the life of faith, inerrantists are forced to be constantly on the defensive, as they desperately try to fend off critics who insist that the Bible is a square peg that they will never get to fit into the round hole of their doctrine of inerrancy.
How does one avoid this? Simple. Don't begin by assuming a "spherical Bible." The assumption that spheres and circles are the most perfect shapes actually kept people from figuring out what the solar system looks like for longer than necessary. Everyone who worked with spheres and circles had to make ad hoc additions to get the data to fit. It was only by departing from such assumptions about perfect shapes and allowing for elliptical orbits that we ended up with our current, much improved understanding.
Don't define in advance what the Bible "must" be. Let not only what the Bible says, but what it is, what is shows itself to be, to lead you to a view of the Bible that is based on the evidence, rather than a view that seeks to dictate to the Bible what it must be.
If it helps, imagine the Bible crying out in pain every time you seek to shoehorn or crowbar it into your pre-existing doctrine of Scripture.
Or just Google "Procrustes"…