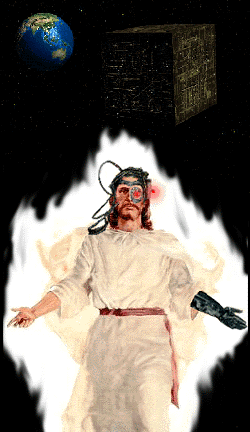 I didn't get the chance to post about this yesterday when the two blog posts about it came to my attention. Fitting squarely in the intersection of religion and science fiction – in the category of religion as sci-fi and/or sci-fi as religion – is the suggestion made by a religious group that an approaching comet is in fact the return of Jesus and the New Jerusalem.
Being as high as it is wide, the New Jerusalem apparently will take the form of a Borg cube.
That would be strange enough. But according to the Luciferian Liberation Front, it is GOD that is coming.
And by God, they mean a Galactic Obliteration Device – G.O.D.
The best weird stories will typically turn up more bizarre images that could amusingly accompany them than would fit alongside the text about them, and so keep scrolling down for a couple more…
Read the original articles at IO9 and Skeptic.