Rachel Held Evans wrote a beautiful post on Huck Finn and the need to listen to our conscience rather than texts at times, even when those texts are considered sacred. Richard Beck concurred.
Tony Jones and Bob Cornwall were among those who emphasized that it is not only allowable but important that our views evolve on subjects like this one.
Bob Cargill made this image and shared some reflections on it:
Jay Michaelson discussed traditional marriage in its various permutations.
Eric Reitan emphasized why the issue of same-sex marriage must be personal.
Chaplain Mike blogged about what the Bible does and does not say about homosexuality. I felt he did a much better job than Daniel Helminiak's recent piece.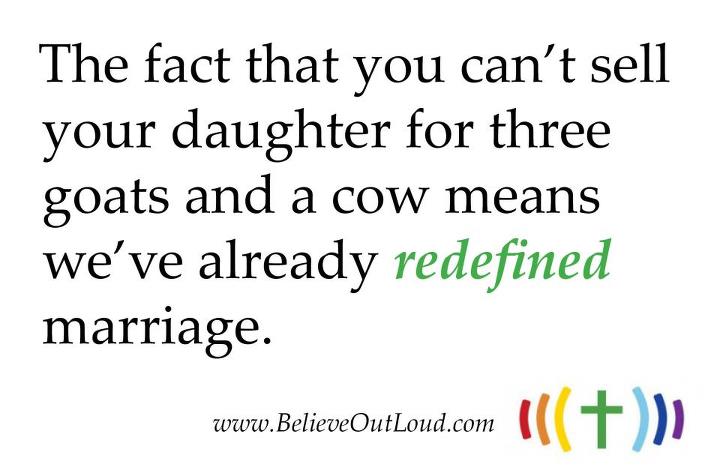 Mark Osler offered a Christian case for gay marriage. Al Mohler tried to pretend that he and others like him focus equally on adultery, injustice, and other issues along with homosexuality, as well as citing the account of Peter's vision in Acts without realizing that the claim that the ritual code of the Jewish Law was being set aside was embraced by Christians before those writings in which the case was made were considered Scripture. Fred Clark offered a response to Mohler that highlights the real message of Peter's vision in Acts, thus exposing one of many problems with Mohler's reasoning. Jim West accused Mohler and the SBC of abandoning their Baptist heritage.
There's a new blog at Patheos, Coming Out Christian.
Morgan Guyton blogged about the sons of hell and the black hole of damning.
Young Anabaptist Radicals offered a parable of the last judgment relevant to this topic and many others.
Charles W0rley's comments were responded to by many, including John Shore, Bo Sanders, Fred Clark, and Bruce Reyes-Chow. SFL offered a modest counter-proposal to Worsley's.
Unreasonable Faith discussed the terminology of "marriage" (a response to the sort of view reflected here) as well as loving one's neighbor (the source of the image at the bottom of this post).
Tobias Haller brought in John Chrysostom to help frame some questions.
A German cardinal called for the Catholic Church to rethink its stance on the topic of same-sex relationships.
Leah Libresco asks what if anything is really wrong with same sex marriage.
Hemant Mehta shared a cartoon about whether the Bible or something else is at the heart of Christian homophobia.
Don Rogers offered this thought:
IF the essence of Jesus is summed up in words that John's Gospel attributes to him, "I have come that they may have life and have it abundantly," then our choice is clear. Homophobia diminishes life; it does not make it more abundant. It must be ended; it cannot be tolerated.
Ian Ebright highlighted the problem of a church willing to use force to coerce others.
John Shuck argues that the anti-gay stance is not faithful to the Reformed tradition.
Colin Powell and the NAACP came out in support of marriage equality.
Geeks of Christ asks whether Marvel's mostly unknown gay superhero helps or undermines the point they are presumably trying to make.