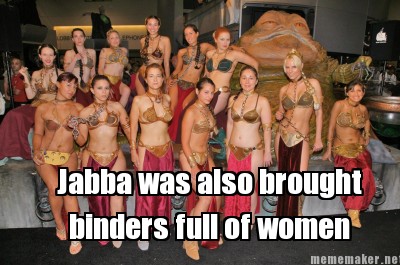 A meme centered on Mitt Romney's use of the phrase "binders full of women" has gone viral. I found myself feeling that it needs more sci-fi takes, and so here's my Star Wars contribution featuring Jabba the Hutt with his binders (in a different sense) full of women. I am sure you can do better than I did. If you do make a sci-fi meme related to the presidential debate, please share a link to what you create in the comments section!
I also discovered, when looking to see if anyone had done anything along these lines, a post on Theofantastique from a couple of years ago with sci-fi Obama posters.
Feel free to discuss the debate itself in the comments section, if you are so inclined!