I have posted a copy of my conference paper which I will be reading at the Society of Biblical Literature Conference. This version has full quotation of several relevant chapters from the Mandaean Book of John embedded within the text of the paper at relevant points, online. Those same texts and more can be found at the site we created to share drafts of our translation.
The title of my paper is "Revisiting the Relationship between the Mandaean Book of John and the New Testament."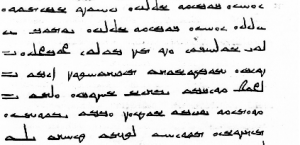 As you can gather from what I wrote above, the paper I have posted online is not just the text of what I will say at SBL in the Nag Hammadi and Gnosticism section meeting on the morning of Sunday, November 18th. But hopefully it will still be possible to follow along, for those who wish to do so during the session, and the included primary texts can serve in place of lengthy handouts.
I'll be interested in feedback on this sort of "digital handout" from those attending the session, as well as on the content of the paper from those in attendance and anyone else who may be interested.