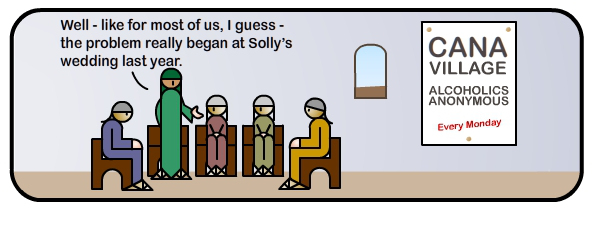 This cartoon from ASBO Jesus offers a humorous slant on an aspect of the Cana story in John 2 that can be problematic. Jesus is depicted as making 120-180 gallons of really excellent wine at a wedding at which people had already drunk so much that they had depleted whatever supply those involved in planning the wedding had thought would be ample.
On the one hand, it has to be noted that a host was expected to provide in abundance, far more than was needed. And so the provision of such a large amount of wine is not intended to be indicative of how much more people were expected to drink. The message is not "What Would Jesus Do?" with the answer "Help people succumb to alcohol poisoning."
On the other hand, only a ridiculously forced and unnatural reading can turn this passage into something compatible with claims that Jesus was opposed to people consuming alcoholic beverages.
For more on this topic, see my piece "'A Glutton and a Drunkard'? What Would Jesus Drink?" which unfortunately is not available online.