Paul Regnier shared a handy acronym he uses to help students remember the range of considerations that might be relevant to Christians seeking to reflect on ethical issues from a Christian perspective.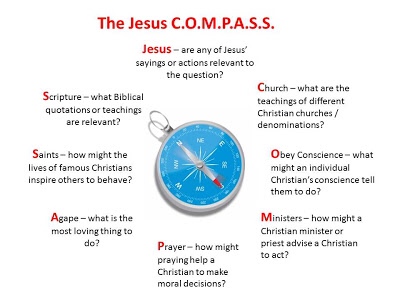 The acronym stands for:
Jesus – Are any of Jesus' sayings or actions relevant to the question?

Church – What are the teachings of different Christian churches / denominations?

Obey Conscience – What might an individual Christian's conscience tell them to do?

Ministers & Priests – How might a minister or priest advise a Christian to act?

Prayer – How might praying help a Christian to make moral decisions?

Agape – What is the most loving thing to do?

Saints – How might the lives of famous Christians inspire others to behave?

Scripture – What Biblical quotations or teachings are relevant?
I thought I would share it here, as I suspect that the range of Christian and non-Christian readers here may find that aspects of it are worth discussing. Which of these feature in your ethical decision-making, if any? Which are given the most weight?
Do click through and read Paul's post, as well as discussing in the comments section here!