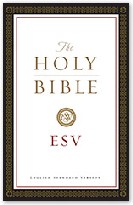 Logos software and Crossway books have made available for free, for a limited time, the ESV (English Standard Version), for use with the Faithlife Bible app. Click through for more details and to download the app if you don't already have it, or just log in if you already have it to get the free ESV Bible.
I should comment on a couple of things that are in the press release from Logos. They have a quote from Al Mohler, stating "We will not believe more than we know, and we will not live higher than our beliefs." I like the quote, although I personally think that Mohler often tries to convince people not to let their increasing knowledge transform their beliefs.
The press release also says,
Logos designed the Faithlife Study Bible to address the common barriers to Bible engagement. John D. Barry, general editor for the Faithlife Study Bible, explains, "The truth of the matter is that the Bible frustrates many Christians, or they consider it boring. If it weren't so difficult to understand, more Christians would read it; but the ancientness of the text causes many to lose sight of its relevance." The Faithlife Study Bible, Barry said, is perfect for those overwhelmed and confused by the Bible: "It changes everything — it makes the intimidating, difficult parts easier to understand, and makes the boring suddenly exciting."
Is this a marketing ploy or a real description? Get the ESV for free and judge for yourselves. I'd say that it is mostly the former, and that that is a good thing. Instructions for priests, such as are found in the early chapters of Leviticus, are not supposed to be interesting – and especially not for those who are not priests offering animal sacrifices.
The ESV is just one recent English translation of the Bible – nothing more, nothing less. But it is worth having for that reason.