This excerpt from a recent piece in the Christian Post tells us a lot:
"One of the things fundamentalist Christians mess up on is they try to say the earth is 6,000 years old. The Bible never makes that claim," Jeffress said.
To those comments, Ham responded: "It is so distressing that so many of our Christian leaders don't seem to understand that to accept man's fallible beliefs of billions of years, Big Bang etc, they are really undermining the authority of God's Word."
Since Rev. Jeffries rightly pointed out that the Bible nowhere claims that the Earth is 6,000 years old, it is not the Bible but Ken Ham that claims that. And so when he refers to "the authority of God's Word" being rejected by those who embrace mainstream geology and other sciences, it is clear that he is talking about his own words, and thus setting himself as God.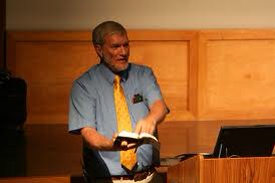 In addition to being a charlatan, Ham apparently also has delusions of his own divinity.
As I have said time and again, Ken Ham's teachings are not a defense of Christianity. They are diametrically opposed to Christianity.
In other news, Ham's "museum" will be hosting a "conference" on creation "research." Surely that will be the shortest conference ever…