I guess I just wasn't predestined to be a Calvinist.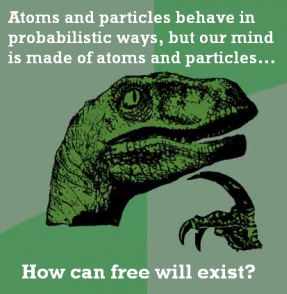 It isn't that I didn't try. In my teens, I encountered some very staunch Calvinists who persuaded me that God didn't simply foreknow everything, but foreordained it. Nothing was outside of God's sovereignty, nor could anything thwart the divine will.
But however much I thought that, I could not live it.
I found myself, ironically, worried about which of two routes I should take when going somewhere. What if God wanted me to encounter someone on one of them? But surely I couldn't choose wrongly, if God was in control? But I still felt like I was choosing, and no amount of theorizing eliminated that feeling.
Although such teenage theological anxiety may seem foolish (it certainly does to me, with hindsight), I am happy to say that it didn't take long for me to realize that one cannot live as though there is no such thing as free will. One cannot eliminate the sense of making decisions, whatever one's view of neuroscience, or of divine sovereignty, happens to be.
I don't think that we can prove that we have free will. And having free will, on any plausible account, does not mean that we are infinitely free, completely unconstrained by genes, culture, habits, circumstances, and who knows what else.
But ultimately, I find – perhaps ironically – that I cannot live as though I do not have free will. And so it turns out to be this constraint, placed upon me by my own experience, and thus perhaps limiting or eliminating choices, that persuades me that I do indeed make choices.
That is my response to the Patheos discussion of the question "Does Free Will Really Exist?" I believe that free will really exists, not because we can prove it (there is a lot about consciousness that we simply do not yet understand), but because I tried to live as though I didn't, and failed.
And because I may not have as good an excuse to share it any time soon – sorry, I mean because I freely choose to share it – here is Rush singing "Freewill":
http://www.youtube.com/watch?v=YpCASVFyQoE