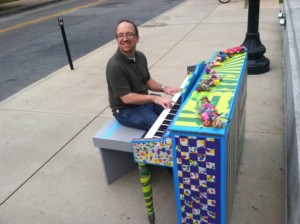 I stopped by to play the piano in front of Central Library in downtown Indianapolis today, and one of the librarians came out and took my picture and recorded a little bit. It is now on their web site.
You can learn more about the "Go Ahead and Play" project, and the Women's Fund of Central Indiana which sponsors it, on their web site.
The best part was that a passerby heard me playing and singing "The Way It Is" by Bruce Hornsby and the Range, and said he loves that song but doesn't know who it's by. I told him, and he went into the library to try to find the CD!
You can (barely) hear that conversation towards the end of the recording on the library web site.
And if you like this sort of thing, but would rather listen to a professional, Tony DeSare recently recorded himself performing "I Love A Piano" around a whole set of public pianos around New York City: