The prologue to the Gospel of Luke is unique among the Gospels. Its author provides a prologue indicating something about his aims and methods.
This would have been a great opportunity to mention something like his receiving of divine revelation.
Instead, here is what he wrote:
Since many have undertaken to set down an orderly account of the events that have been fulfilled among us, just as they were handed on to us by those who from the beginning were eyewitnesses and servants of the word, I too decided, after investigating everything carefully from the very first, to write an orderly account for you, most excellent Theophilus, so that you may know the truth concerning the things about which you have been instructed.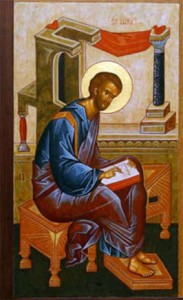 Think about the implications of this. Inerrantists, it turns out, are not claiming that the Bible's authors were controlled by God to such a degree that what they wrote is perfectly accurate. Inerrantists are claiming that God made sure some things were accurate, did not prevent the Bible's authors from describing their own work in such a way as to give the impression that they were researching, remembering, and writing as other human beings do, when allegedly something else was the case.
So who is telling the truth? Is Luke accurately depicting what he did when he wrote? Or was he in fact provided with supernatural revelation that gave him precise details with no errors?
And doesn't this demonstrate that inerrancy is not about actual inerrancy, but about asserting that some things in the Bible are inerrant even if it means giving the impression that others are not? Isn't inerrancy inherently self-contradictory?
As I have said before, sooner or later you have to choose between inerrancy and what the Bible actually says.