Someone turned part of the post I quoted recently into an image: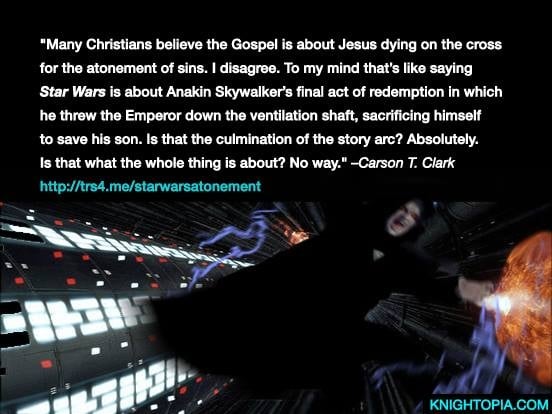 Is Star Wars about the emperor being given the shaft? No. It is about a young man with great potential wanting to do whatever it takes to hold on to someone he holds dear, and becomes a force so destructive that he hurts the one he originally set out to save. It is about a man who sees no potential for redemption in himself. It is about that man's son, who doesn't know about his background, but like his father he longs to escape from a dull and tedious life and be someone great and important. He learns that saving the galaxy involves more than good intentions and a desire for excitement and adventure. And he comes to understand something that even his teachers do not, and his father had likewise failed to learn: that evil cannot be overcome by killing it, when that involves becoming what you set out to destroy in the other. Evil is overcome when you find the good in one that everyone hates, and find a way of bringing it back into the light.
That is Star Wars' story. It is about redemption. It is powerful and profound and multifaceted and complex. And that is why I appreciate it so much.