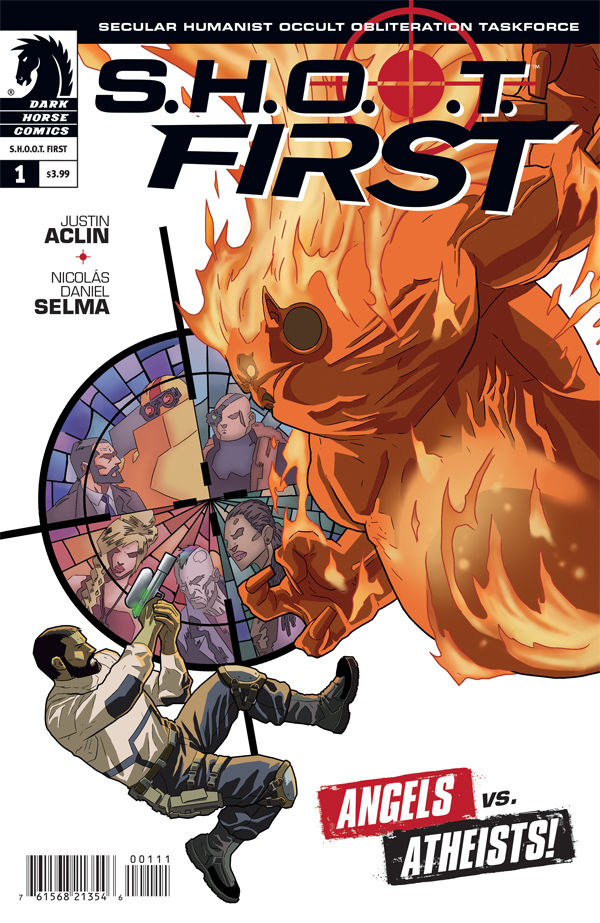 Hemant Mehta highlighted this fascinating new comic book. In a manner that is typical of much supposedly secularist or atheistic science fiction, the story has people rebelling and fighting against "gods" and other such "outside actors," but in the process, makes them literally exist as well. Here's an example:
It's a theme I've explored before, especially in Star Trek and Doctor Who. Mehta provides some further details from Justin Aclin, one of the writers. Here is an excerpt:
I think the religious people who should take offense would never see themselves in the story, even though I based the villains off of them. In the world of S.H.O.O.T. First, anything that might be considered a supernatural creature is actually an Outside Actor, an extra-dimensional being which can self-evolve and that feeds off the faith of humanity. And many of the Outside Actors fear the degree to which science and reason are affecting humanity's faith, and they've hatched a plan to bring about an Apocalypse and wipe that away. That's very much based on a certain type of Fundamentalist that's actively working to bring about the end times, which is a concept I just find abhorrent. I was raised Jewish, and when I realized that there was a group of Christians out there who were cheerleading Israel's worst tendencies because they think it's going to bring about the end of the world, and they'd like that, I was horrified. And I took that horror and created monsters out of it.
Have any of you read the entire comic book? If so, what do you make of it?