Benjamin Corey has written two posts, one about how reading the Bible makes you more liberal, the other about how reading the Bible makes you more progressive. (See the Patheos Progressive Christian Digest for this and more!)
In related news, Bob Cargill drew attention to the fact that, if you missed last night's episode of "Bible Secrets Revealed," you can now watch it online for free.
And for an example of backfiring prooftexting, I came across this quote from the King James Version of Isaiah 32:5-6: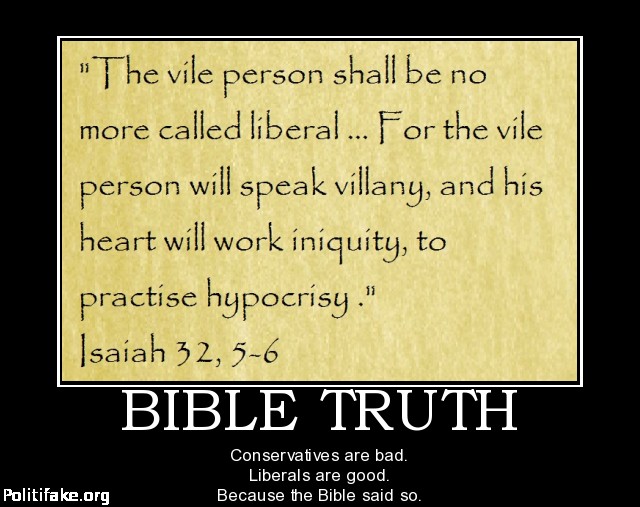 This illustrates well the problem with use of the KJV. The person who read it didn't understand what it said, and simply assumed that the connection between vile and liberal must be saying something negative about the latter. But the point is precisely that liberal is a compliment and it is one that will not be paid to the illiberal or ungenerous any longer. As the NIV renders these verses, "No longer will the fool be called noble nor the scoundrel be highly respected. For fools speak folly, their hearts are bent on evil: They practice ungodliness and spread error concerning the LORD; the hungry they leave empty and from the thirsty they withhold water."
Reading Isaiah 32:5-6 and understanding it is just one more thing in the Bible that will make you liberal.