I've been eagerly looking forward to the appearance of Bart Ehrman's one-volume textbook on the entire Bible. For those of us who teach a single-semester course covering the Bible, using separate textbooks on the Hebrew Bible and New Testament may be too much. And so I was understandably delighted to receive a copy of Ehrman's book, The Bible: A Historical and Literary Introduction
, from Oxford University Press.
The volume looks fantastic. It tackles what the Bible is, assuming no prior knowledge, and explains that it is offering a historical understanding which is neither an attack on nor a support for various faith positions, and which cannot adjudicate between the latter. If one makes a claim about a historical event, then the historical evidence can adjudicate (and Ehrman treats examples of this, e.g. the Exodus on pp.62-63, and a whole chapter on the historical Jesus). But historical study cannot tell you that one person's view of God is right and another's is wrong (p.28). Each chapter ends with what I consider to be really good discussion questions. An appendix deals with the canon and text – questions of how we got the Bible – which I, if I were using the textbook and teaching the class as I normally do, might have students read after the introduction, and discuss at the beginning of the semester rather than the end. But it might be interesting to bracket out the question of how these books came together and treat them as separate literary works first, only addressing the process of their becoming part of a collection at the end.
The book came with this sticker on the cover: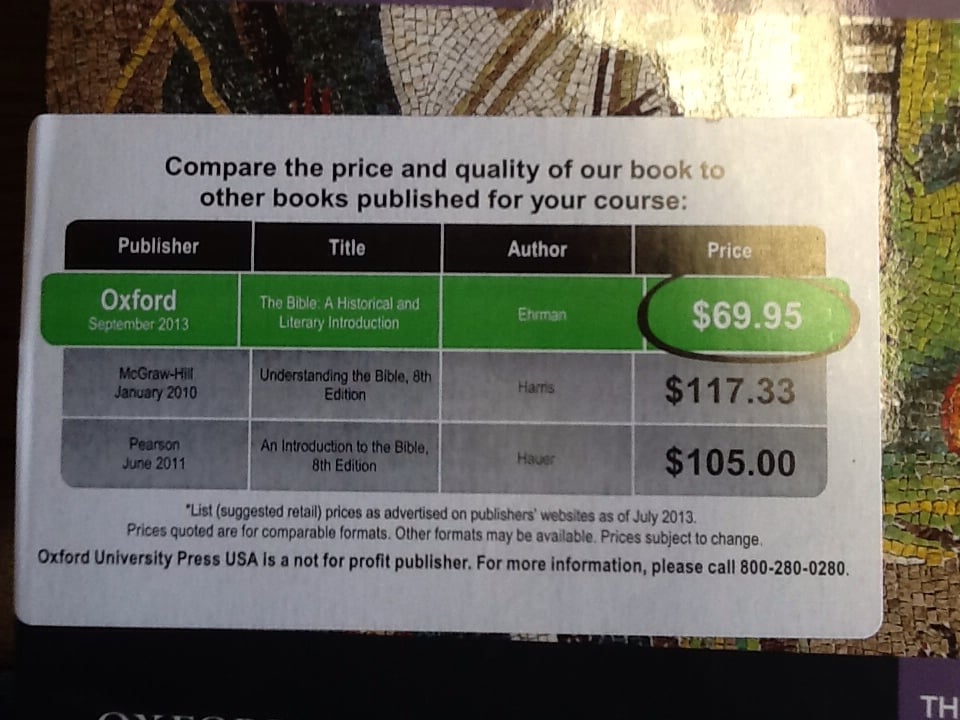 I am eager to use excellent textbooks for my students, but am also eager to prevent them having to pay an unnecessarily high price for their textbooks. Oxford's label seems to be trying to say that just under $70 is a bargain for 410 page textbook. I wonder how many readers would agree. Perhaps I am looking at this much as I am looking at current airfares. I remember them being much lower, but that doesn't mean that they can realistically be that low in the present day. And so I am curious whether this price seems reasonable, ridiculous, or somewhere in between to blog readers. I think the textbook is perfect for the class I teach. I also find the price profoundly troubling, when I consider that N. T. Wright's two volume 1660-page work Paul and the Faithfulness of God
costs less than the Ehrman textbook. Of course, a textbook includes images and other features which are not without expense to obtain permission for and incorporate. What do others think?
I also noticed that Ehrman's forthcoming book, How Jesus Became God: The Exaltation of a Jewish Preacher from Galilee
is available for pre-order.