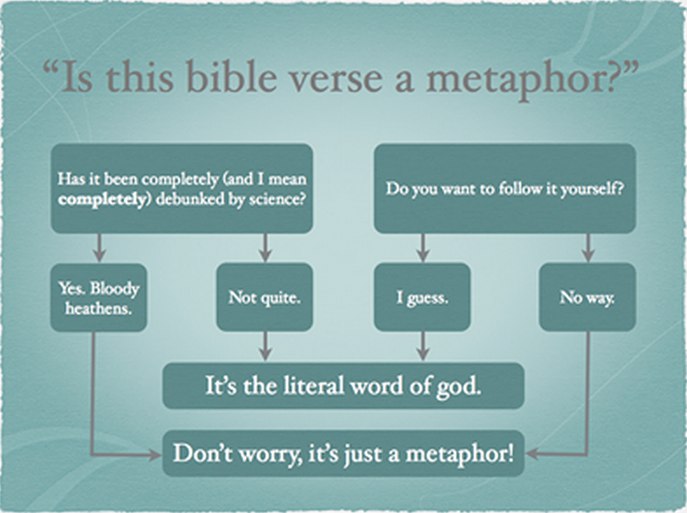 Terry Firma shared the above image. It helpfully illustrates what is really going on in fundamentalist interpretation of the Bible. Their view should never be referred to as "Biblical literalism" since it only insists on the Bible being literally true when it is desirable to do so, and not where it is "obviously" a metaphor, such as the dome over the Earth, or in its teaching about gluttony or giving up all your possessions. Calling the fundamentalist view "Biblical literalism" makes it seem as though they have a high ground of sorts, however dubious it might be. But it is not as though they are being consistent while others are not. Quite the contrary. Indeed, that fundamentalists have managed to convince so many people (including themselves!) that they are in fact "Biblical literalists" deserves to be acclaimed as one of the greatest PR exercises in modern history.
As a liberal Christian, while I am always willing to consider the possibility that the ancients were using metaphors in a particular instance (they were capable of doing that, you know), even so in some instances the Bible is
clearly
wrong. A failure to admit that is not to uphold the Bible's authority, but to reject the real-life Bible we have, and substitute in its place an imaginary one which is said to be inerrant, with the help of smoke and mirrors and a sincere hope that no one looks too closely at the claim or the evidence.
Thankfully, many people are looking closely at the claim and the evidence, and noticing that the Bible is appealed to in an effort to condemn others, but often ignored when it condemns oneself (an approach which, ironically, is itself condemned in the Bible!).