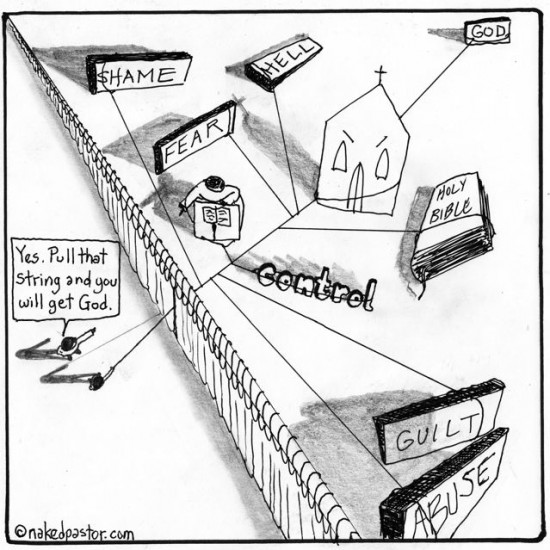 David Hayward has created another thought-provoking cartoon. It illustrates the difficulties inherent in speaking about God. God, as the ultimate reality, transcends our understanding. For that very reason, those who desire certainty regularly fall prey to those who offer them substitutes, the less than ultimate, who claim to being God closer to them and to their comprehension. And as part of the package, they tend to offer control, guilt, and abuse.
The question that remains is whether we can disentangle God from these things, since by definition we do not have direct access to God. And so the issues that David's cartoon depicts are not just things that others tie to God, but things that we are prone to tie to God.
It seems to me that all we can do is emphasize that movement in the direction of God is movement away from abusiveness, and bullying, and hatred.
Sometimes, when we move far enough in the direction of God, those strings can actually break. That's the experience that has transformed lives profoundly and not just superficially. The experience that deserves the label "salvation."