While some religious believers argue against the Big Bang, others have seen it as proof of God.
Such language is problematic. It is one thing to say that our universe seems to point beyond itself to something that came before it. It is quite another to try to use that as proof that one's own ideas about God are somehow validated thereby.
Nevertheless, there are far worse things that people can point to as "proof of God." While most of us can appreciate the sentiment that is expressed through talk of the "miracle of childbirth," treating it as "proof" of something is problematic. Hemant Mehta pointed to an article in The Onion which pokes fun at this:

Meanwhile, both he and Jerry Coyne shared this cartoon from The Far Left Side: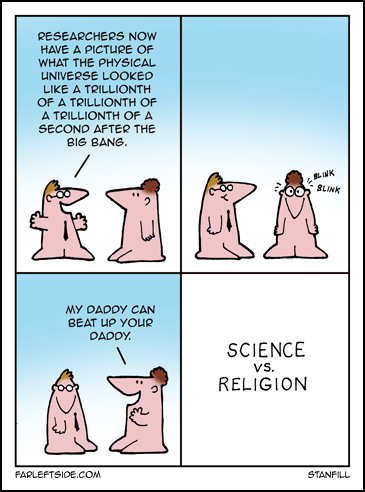 While some definitely respond to scientific discovery in this way, others, coming from a religious perspective, find that discovery enhances their sense of awe and wonder, rather than finding it in any way threatening.
It is basically another side to the issue that I've been discussing in my Sunday school class recently. While some see everyday events as "proof of God," others find that very language to actually trivialize God and to turn God into something extremely problematic. Note for instance the story about a Bible which survived a fire which killed 8 people. Treating that as "proof of God" makes God into a moral monster who prefers to save a copy of a printed volume of which there are plenty of other copies, rather than eight irreplaceable human beings.
Please think before you talk about "proof of God." The very "proof" you offer may convince someone not to believe.