I suspect that this is a day that many young Evangelicals (some of whom will be looking for a different name for themselves) will remember in years to come.
If you haven't been following the news, the major Christian charity World Vision decided to embrace married same-sex couples as employees – and now, shortly after the announcement, they have reversed that decision.
What led to the change? The word that springs immediately to mind is bullying. Many Evangelicals vocally expressed their dismay and promised to stop supporting World Vision.
As many noted, these critics were clearly saying "feeding starving children matters less to us than discriminating against Christians with whom we disagree."
Many young Evangelicals responded with joy at World Vision's initial announcement. They are now disappointed.
But I suspect that they will look back to this occasion – let's call it "World Vision Day" – as the day they made up their minds that they want to be different than the sorts of spiritual bullies that predominated their parents' churches and Christian organizations. As the day when they realized through their disappointment at what this organization did, that they think caring for others is paramount to their Christian faith, and discriminating against others ought to be no part of it.
And so I hope that that will be World Vision's legacy – as well as feeding starving children.
Elsewhere around the blogosphere, there are comments from:
Scott Paeth, who said: "At this point in my life, I'm used to being disappointed by Christian institutions. But they keep finding new ways to disappoint me."
Rachel Held Evans wrote: "This whole situation has left me feeling frustrated, heartbroken, and lost. I don't think I've ever been more angry at the Church, particularly the evangelical culture in which I was raised and with which I for so long identified. I confess I had not realized the true extent of the disdain evangelicals have for our LGBT people, nor had I expected World Vision to yield to that disdain by reversing its decision under pressure. Honestly, it feels like a betrayal from every side. "
Hemant Mehta rounds up some of the comments on Twitter. Fred Clark has found the precise theological term for the liars associated with the Gospel Coalition.
See also posts by David Henson and Libby Anne. UPDATE: See now also Scott Fritzsche's math, and Zack Hoag's post indicating that some of my predictions above where correct.
Hacking Christianity made this image: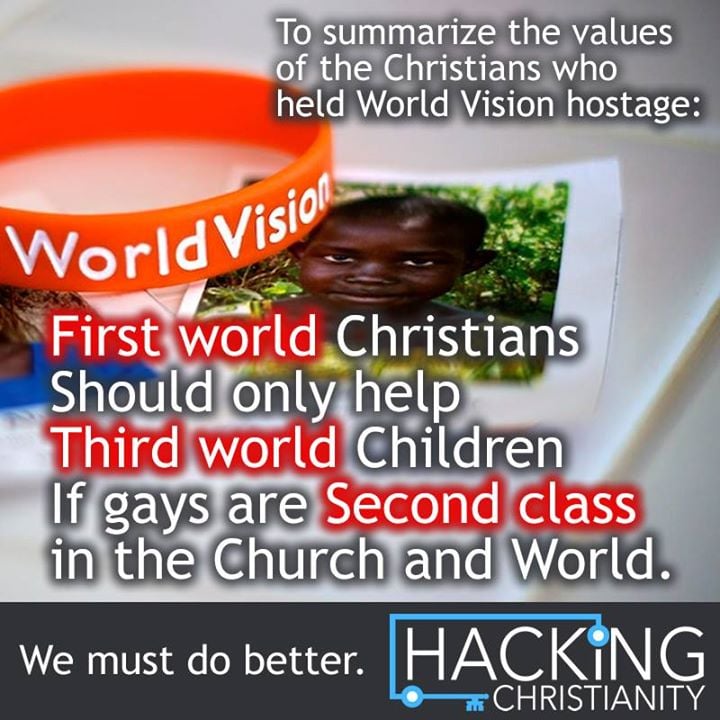 And finally, here's a cartoon from David Hayward: