This Sunday morning's service at Crooked Creek Baptist Church was held jointly not just with the members of Grace Tabernacle, a Congolese congregation that has been sharing our building, but with many guests who were here for the "Life After Pain" conference. We had our own choir as well as a Congolese choir, and the message was delivered by Pastor Mutima B. Peter.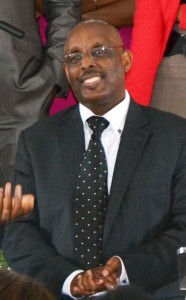 During the message, Pastor Peter mentioned that his congregation in Maine is changing its name from "International Christian Fellowship" to "Bethel Christian Center." I wondered why, but his sermon soon made this clear. Jacob was a refugee. He was on the run in a strange land, and there had an experience of encountering the divine.
The message also mentioned Esther, considered from a similar perspective. In connection with her story, the point was made about the long-term impact on a society that the children of refugees have.
I am always delighted when I have the opportunity to hear perspectives on Biblical texts offered by those reading from different perspectives of culture and life experience. Things will be seen that I would not have without their help.
The service was fascinating as a meeting place of cultures. It began with pretty much no one from the Congolese congregation present. By the time our pastor Tom Bartley offered a benediction and essentially excused the Americans for departing, there were Africans who were still arriving. I was delighted that Americans and Africans alike laughed when Tom told us that a Congolese pastor once said that he is never late – he is always right where he needs to be at any given time.
The shared service was a wonderful experience. I hope your Easter has been special too!