Paul Braterman drew to my attention a blog post on Naturalis Historia about the influence of young-earth creationism on the Blue Letter Bible's version of Strong's Concordance. Look at this one in particular: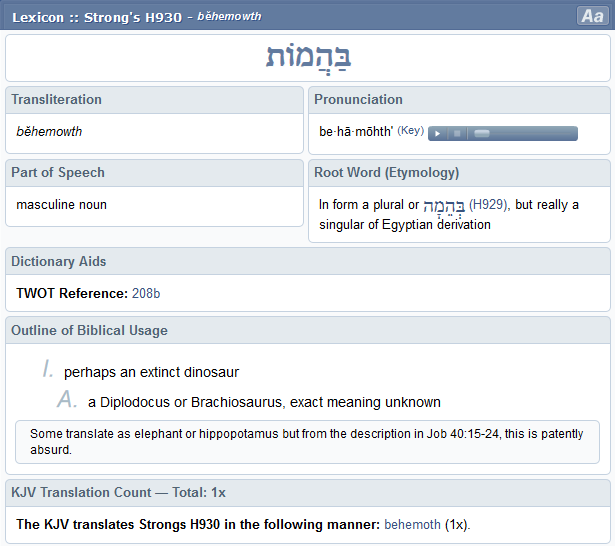 The actual Strong's Concordance suggests that the term refers to the hippopotamus. The notion that it refers to a dinosaur is something that has been proposed very recently by the modern movement known as young-earth creationism, which holds bizarre views that are a hodge podge of scientific terms and pseudoscientific and unbiblical nonsense, which clearly did not exist or did not have influence in the late nineteenth century when James Strong made his concordance. Other older resources on the site, such as the International Standard Bible Encyclopedia, deal with the matter in a better manner.
It is disappointing that a widely-used resource such as the Blue Letter Bible would engage in such distortion not only of the Bible, but even of the Strong's Concordance. Of course, this isn't the first time that young-earth creationists have distorted or edited the words of Christians from the past in order to promote their deceptions. But I am still disappointed when I encounter falsehood being promoted in such underhanded and deceitful ways.