The title of this episode may remind one of "flatland," that famous illustration of dimensions, and so it should. In "Flatline," the Doctor and Clara encounter beings from a universe of two dimensions, who have been causing the disappearance of people on a particular housing estate in Bristol. The lack of police interest is highlighted, and in the process Doctor Who offers comment on the inequalities that exist in Britain as in the rest of the English-speaking world, not to mention further afield.
But however clever the idea of having 2-dimensional monsters, and however poignant the social commentary, I think most viewers will agree that the premise of the episode allows the show to do something even more interesting.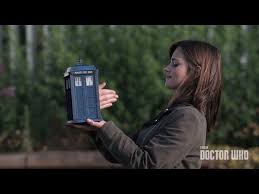 It gives Clara the chance to be the Doctor.
With the Doctor unable to get out of his TARDIS, because its exterior has shrunk (due to energy drained by the 2D entities), Clara keeps in radio contact with him but has to take the lead – and decides to take on the Doctor's title and approach.
This leads her at one point to as "What would the Doctor do?" And she realizes that it is not a different question from "What will/should I do?" And the solution she comes up with – using the enemy's power against them – is quite genius, and indeed the sort of solution the Doctor might offer.
A number of points of morality are addressed. Clara notices the need to take charge, to lie in order to give people hope, and other things that make the Doctor a morally ambiguous character. The Doctor says that "In a universe as big and as bizarre as this one, we can't be too quick to judge." But having given the entities a chance to communicate, he treats them as what he feels they have shown themselves to be: monsters.
The Doctor is impressed with Clara's performance – but also doesn't like what it has shown him of himself. And so in the end he says, "You were an exceptional Doctor, Clara. Goodness had nothing to do with it."
The episode ends with Missy, intriguingly calling Clara "my Clara" and saying that she had chosen well, and then laughing. Presumably we will find that it was Missy who had first given Clara the Doctor's number. But why? One suggestion is that Missy is collecting witnesses for a trial. If so, then that will offer an interesting echo of "Trial of a Timelord." The writers of the Colin Baker era tried to take Doctor Who in a darker direction, too. But the BBC didn't like it. And so if there are indeed parallels, it will be interesting to see what the reaction to them is this time around.