I spotted some conservative organization's voters' guides in the room where a very conservative member of my church leads a small Sunday school class. I was struck by the way the pamphlet tries to hijack conservative religious concerns to garner votes. A couple of points seem worth noting.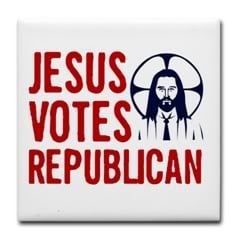 First, there is a consistent record of Republican and other conservative candidates featuring in scandals that show they do not actually practice what they claim to stand for. And so that ought to have made unambiguously clear to everyone that they do not actually stand for those things. And yet still the voters guides are made which show favored candidates as "pro-life" or "pro-marriage."
Since there is such a significant chance that the pro-life candidate has gotten (someone) pregnant and an abortion was sought, and that the pro-marriage candidate's marriage is falling apart while he or she is involved in a clandestine relationship with a member of the same sex, why on earth are conservative Christians still falling for this patent attempt to manipulate them into voting for candidates who do not actually share their morals?
Second, the attempt to turn voting into a question of only one issue (abortion) or a very small number is likewise an attempt to manipulate voters. David Brin put it well in a recent post:
What conservatives needed was a single issue that would make the crucial difference, like an on-off switch. Something so pure and absolute that Jesus would have to switch sides, holding his nose and saying: "I disagree with you right-wingers on every social and economic and general moral point, and yet… I must still side with you against the goll-durn lib'ruls. Bcause I can't abide baby-killers."

If you had to come up with such an all-or-nothing test, "baby-killing" would pretty much be it. Just by defining humanity at conception, you eliminate any need to consider Jesus's wishes on other matters, like economic fairness, or pacifism, or inheritance by the meek, or… You get it; nothing else need be considered!
The rest of his post is focused on showing how this is manipulative – on the one hand, the Bible's treatment of the subject of abortion (or rather, its relative silence on the subject) does not line up with the modern "pro-life" stance, while on the other hand, "pro-life" legislation does not consistently reduce the number of abortions people actually have. And at any rate, Christians should be concerned with more than one issue.
It is shameful that politicians use the name of Jesus to try to gain votes for themselves.
But it is even more shameful that Christians so often fall for it.