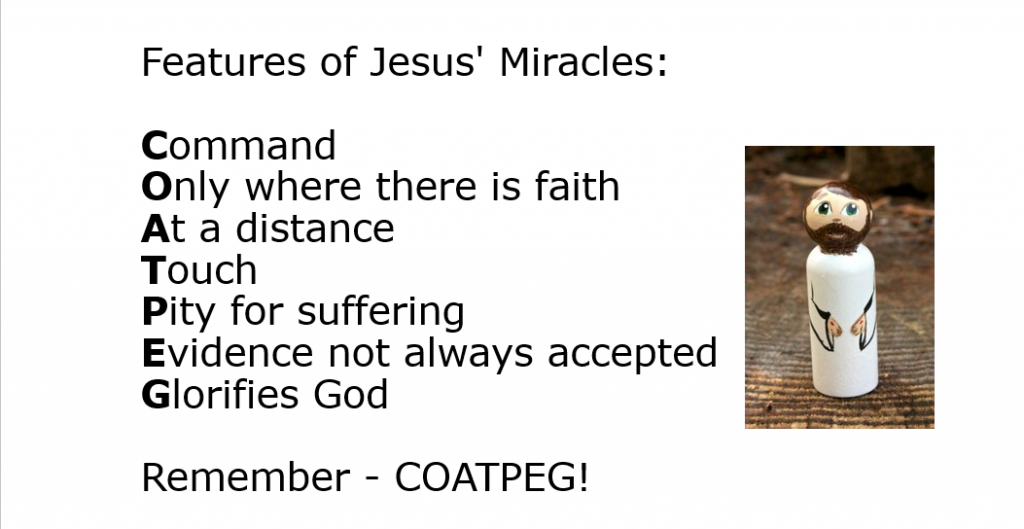 Paul Regnier came up with an acronym for remembering key aspects of Jesus' miracles as depicted in the New Testament, which is adapted from an A-Level textbook by Gwynn ap Gwilym. Here's how Regnier explains the acronym in greater detail:
Command – Jesus performs some miracles with only a verbal command. This is the case with nature miracles, but also elsewhere, e.g. the possessed man in Capernaum synagogue. 
Only where there is faith – Faith is a common feature of the miracle stories, while both Mark (6:5) and Matthew (13:58) tell us Jesus performed few miracles in his home town because people did not believe in him. 
At a distance – Jesus does not need to be present to perform a miracle, for example, the healing of the centurion's servant.
Touch – Jesus is able to perform miracles by touch, such as healing the ear of the high priest's servant. 
Pity for suffering – The miracles demonstrate Jesus' compassion for suffering humanity. Healing miracles are good examples of this, as is the feeding of the 4,000, where Jesus says he has compassion for the hungry crowd.
Evidence not always accepted – Those who did not believe in Jesus attribute the miracles to Satan, e.g. the teachers of the Law in Mark 3:20-30.
Glorify God – The purpose of Jesus' miracles is to bring glory not to Jesus, but to God. For example, when the widow of Nain's son is resurrected, the people glorify God.