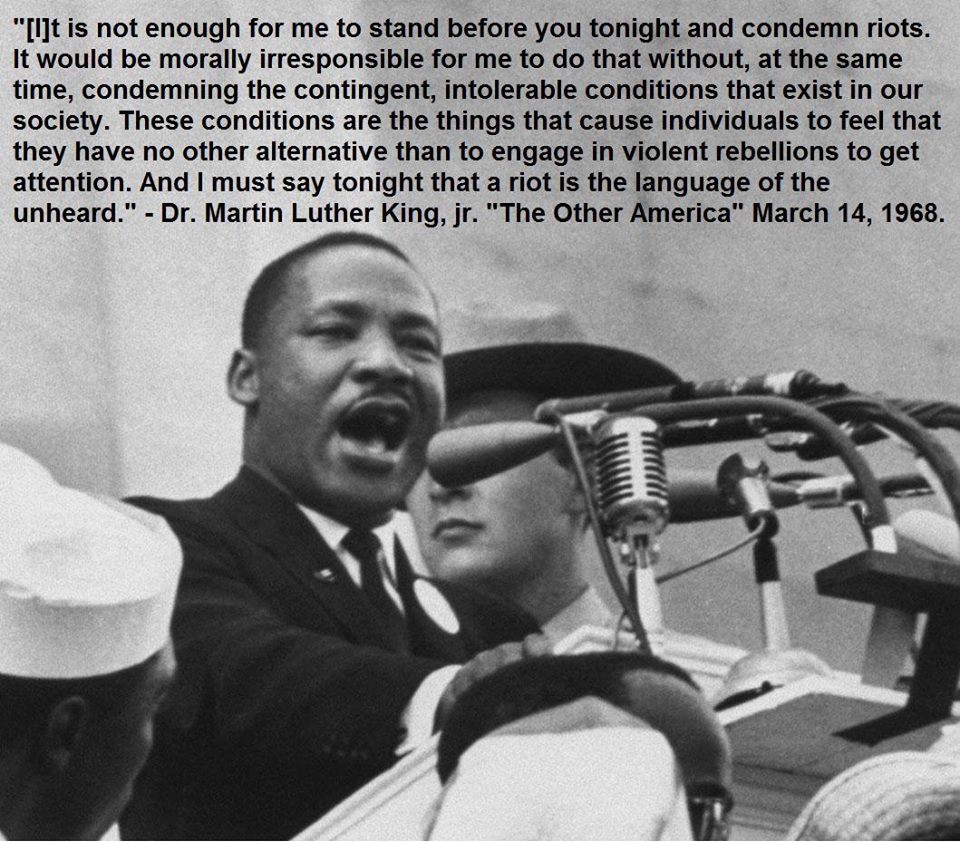 CBS News has a recording of the speech by Martin Luther King Jr. from which the quote is taken. Morgan Guyton also shared another thought which seemed to me to be worth quoting and sharing:
What is coming into focus for me is the difference between law and order and justice. Law and order describes a world where boundaries remain predictable and inviolable. Windows aren't broken, traffic isn't stopped, business as usual hums along. Law and order works for the people who aren't living in the broken down apartment complex attending the underfunded school system trying to support a family with a service industry job all while being humiliated and physically endangered by authority figures whose job is to keep the system humming by preserving law and order whatever collateral damage is required. Justice is completely different from law and order. Justice is God's demand for a society that proactively seeks the welfare of all of its citizens, especially those who are crushed by the law and order measures meant to keep the overall system running smoothly. Justice is very uncomfortable for those of us who live very well in the aloofness afforded us by law and order.
Below is another MLK quote, courtesy of NPR Michel, and the San Francisco Bay Area TV Archive has another video recording. And don't miss the collections of images and conversations that you might not see everywhere.
If you read all the way to the bottom, you deserve more links. And so here is one on life in Baltimore, and another from Jonathan Bernier, whom I usually quote on matters related to the New Testament and history.