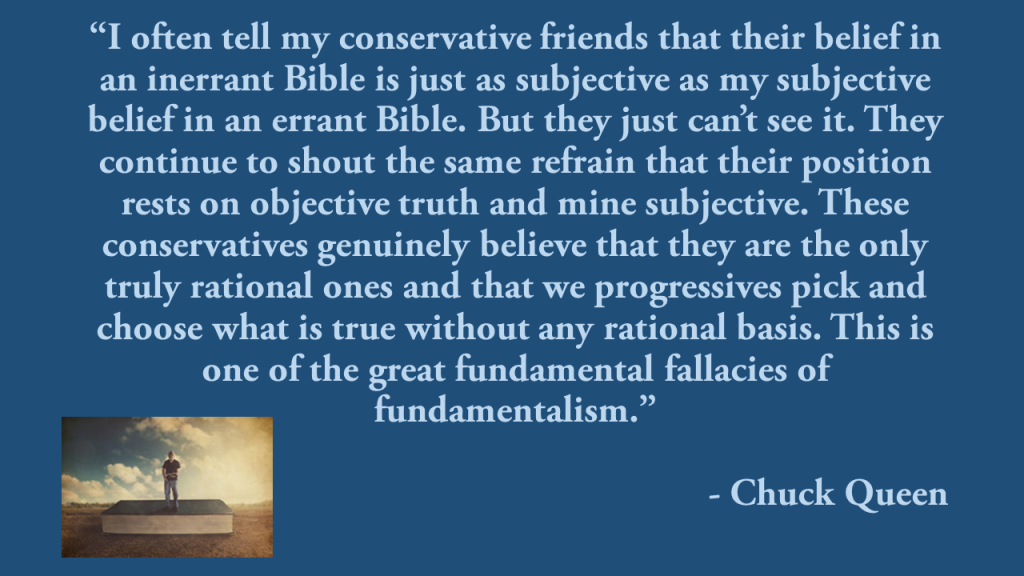 I often tell my conservative friends that their belief in an inerrant Bible is just as subjective as my subjective belief in an errant Bible. But they just can't see it. They continue to shout the same refrain that their position rests on objective truth and mine subjective. These conservatives genuinely believe that they are the only truly rational ones and that we progressives pick and choose what is true without any rational basis. This is one of the great fundamental fallacies of fundamentalism.
The quote comes from Chuck Queen's post "Christian Fundamentalism's Grand Illusion." It makes a crucially important point. Fundamentalists turn to an inerrant Bible in an attempt to forestall discussion and avoid ambiguity. What they fail to acknowledge, and often do not even consciously realize, is that their belief in the Bible's inerrancy is a subjective belief that they hold. And in this case, it is a belief that is at odds with the evidence and so in no way superior to the attempt to study evidence carefully and draw reasoned conclusions from it probabilistically.
They seek to avoid uncertainty, and end up with a worldview that is far more unlikely to be correct than the one they would have if they acknowledge the inevitability of uncertainty and used well-established means to try to account for it.
Of related interest, see Derek Penwell's post on the Bible and same-sex marriage, in which he writes:
The act of reading the Bible in a modern context is an attempt to read over the shoulders of people who lived in a different world with a completely different set of expectations about what is possible, or what God could conceivably bless. In much the same way that it is possible to read the U.S. Constitution as addressing a completely different world from the one we inhabit (incapable of imagining the problems associated with living in the 21st century) but which embodies profoundly important principles, progressive Christians understand the Bible to contain profoundly important principles about justice and regard for others that can now be realized in ways that up until recently would have been culturally impossible.