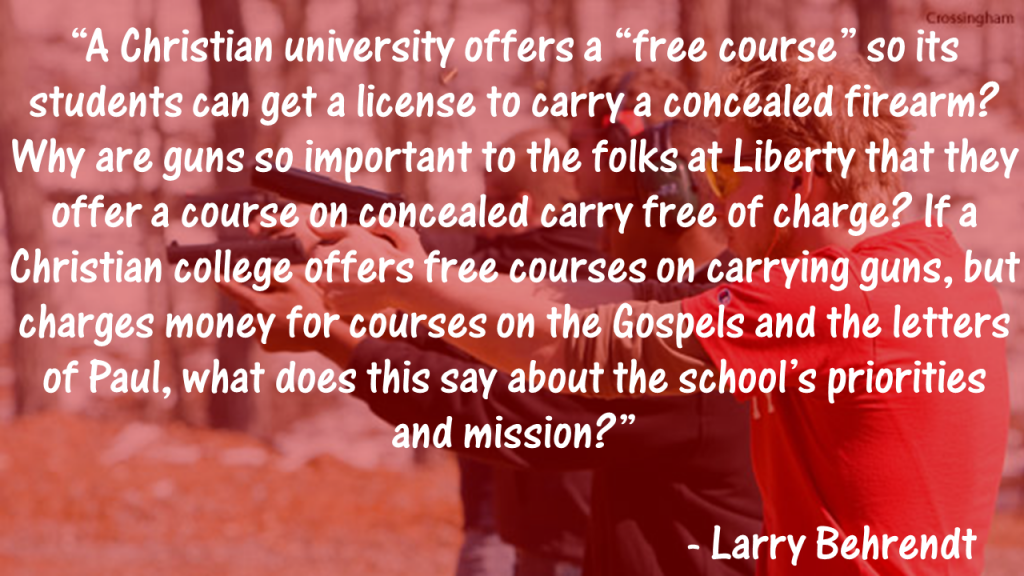 A Christian university offers a "free course" so its students can get a license to carry a concealed firearm? Why are guns so important to the folks at Liberty that they offer a course on concealed carry free of charge? If a Christian college offers free courses on carrying guns, but charges money for courses on the Gospels and the letters of Paul, what does this say about the school's priorities and mission?
The quote comes from Larry Behrendt's blog Jewish-Christian Intersections.
Of related interest, the AAR and SBL annual meeting is in Texas next year, and Texas has recently passed an open carry law. For those from saner parts of the world than my own country, that means that not only can you carry a weapon, but you can carry it openly, e.g. hanging over your shoulder as you walk around a store or in a restaurant. For those of us who think that is dangerous, we might want to ask AAR and SBL to ensure that firearms are prohibited on the premises of the conference, and to ask that restaurants in the vicinity post their policy visibly so that conference attendees can make an informed choice about whether to dine at their establishment.
For what it's worth, Indiana also has an open carry law, but I have never seen people wandering around Indianapolis with a firearm. Then again, to my knowledge Indiana's governor has never
challenged Obama
to come and take his guns
.
If you attend the annual meeting in November, you might want to print some of the cards below. I would certainly leave immediately from anywhere I was if I saw someone with a gun there, without hesitation, and so it might be useful to have something to leave behind by way of explanation, since I certainly wouldn't stop to have a conversation while some person with a deadly weapon is present.