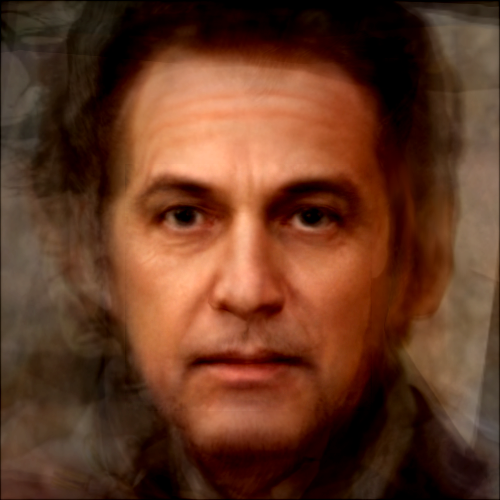 I had the two images above forwarded to me by a blog reader. They represent the average composite that emerged from combining the features of actors who've portrayed Jesus and Satan in films. I'll bet you can tell which is which without needing captions. Does this tell us anything about our stereotypes regarding these figures?
Here is some more information about how these images came about, again forwarded to me by the same individual:
The project came out of Bluefield College's Department of Art and Design. The origin of the idea is that since it's the holidays, several of these movies will be shown on tv and it's interesting to see how Jesus has been portrayed in Hollywood over time. Originally they were just going to do Jesus, but decided that it would be interesting to do the Devil/Satan as well considering there have been several portrayals of him in film.So in a sense, it is a media studies, art and design, and holiday project all in one.I think the most surprising aspect of the project is actually how "unsurprising" it is. For the most part (until recently) Jesus has been portrayed as very "European" or "westernized" sometimes even having blonde hair and blue eyes… and the composite image shows that pretty clearly.Prime example: Jeffrey Hunter in 1961's King of KingsWe know now that Jesus would likely have been very Middle Eastern looking.Overall, a very interesting graphic.Here is the list of actors that comprise the composites:Jesus:Brian DeaconChris SarandonChristian BaleDiogo MorgadoEnrique IrazoquiEwan McGregorHaaz SleimanHalvard HoffHB WarnerHenry Ian CusickJeffrey HunterJeremy SistoJim CaviezelJohn K SteelJuan Pablo Di PaceMax von SydowRobert PowellTed NeeleyWill FerrellWillem DafoeSatan:Al PacinoAnton LaveyBruce PayneClarence WilliamsClaude RainsDavid WarnerElizabeth HurleyGabriel ByrneGeorge Burns (played God and the Devil)Harvey KeitelJack NicholsonMax von Sydow (if you notice he played both Jesus and the Devil in separate films)Peter CookPeter FondaPeter StormareRobert De NiroRosalinda CelentanoTom WaitsViggo MortensenVincent PriceWalter Huston
See below for animations showing the images that went into making the composite.