As we lament the grand opening of the Ark Encounter, here are some links to blog posts that I have been meaning to share related to that topic.
Hemant Mehta was one of several voices online to point out that the use of modern construction machinery to make the Ark Encounter replica of Noah's ark highlights the implausibility of the Biblical tale, rather than making it more plausible.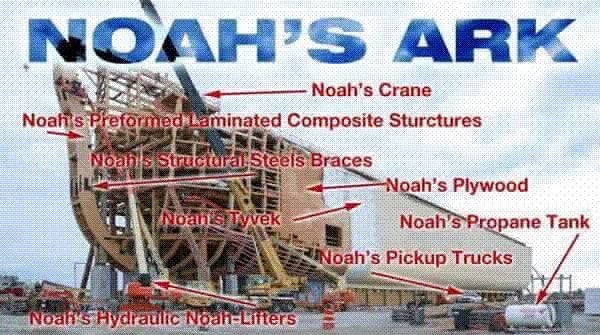 He also highlighted a new book about the phenomenon of young-earth creationism.
Ben Stanhope wrote about
how Answers in Genesis misrepresents the Bible
, and also about how
discoveries of dinosaur fossils in the past may have given rise to dragon myths
.
Many will agree that the Ark Encounter is also a terrible misuse and waste of money. But in addition, Calvin Sparrow discussed epistemological issues with young-earth creationism. And even Bill Dembski found himself a target of YEC attacks.
Finally, I miss Jim Linville's Thinking Shop and Tea Room, but am glad that he is now blogging again, even if in another form, focused on his current research project about creationism and creation museums. You can visit it here:
http://contemporarycreationism.com