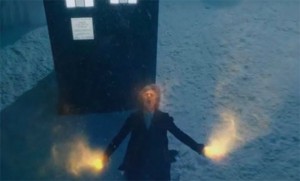 I just had a wild thought about the final part of the season finale of Doctor Who. Some have speculated that the Doctor is dying, given that he couldn't use regeneration energy to cure his own blindness. Perhaps he used his own regeneration energy to save Missy from the execution machine. And so he may believe that the end is near for him, and if he is to regenerate, he will need help.
What if he finds himself on Earth, in the midst of the events of the final episode featuring William Hartnell as the Doctor, "The Tenth Planet"? That is, after all, the first episode to feature the Mondasian Cybermen.
What if the first Doctor (presumably played by
David Bradley
) helps his future self regenerate – and that is why the first Doctor is weak and eventually
regenerates
in that episode? And of course, the last thing that the Doctor does before he regenerates in that episode is 
falls
, and next week's episode is called "The Doctor Falls."
What do you think of my speculative idea?