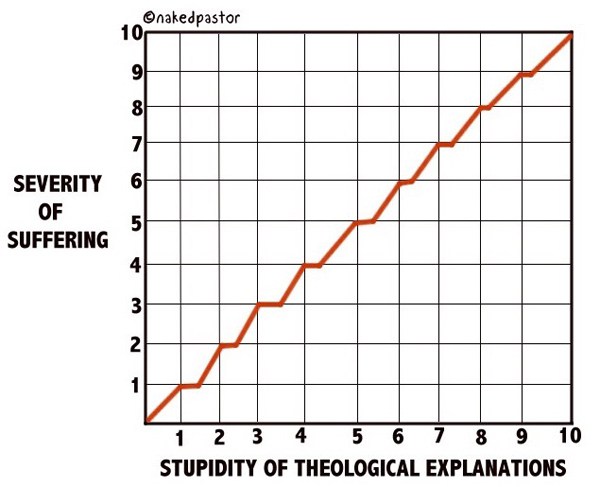 I was already planning to share this graph by cartoonist David Hayward well before Hurricane Harvey hit Texas, and even before my wife heard some Romanian pastors talking about what God's aim had been in causing the deaths of their children. It certainly reflects my own experience, but it is still worth stopping to ask why it should be the case that, as suffering gets worse, so too do the theological pronouncements that many people come up with. Is is simply that severe suffering highlights the inappropriateness of theological statements that are made all the time? Or does severe suffering actually puzzle and trouble many of us at such a deep level, and to such an extent, that we grasp at inane platitudes no matter how trite, not matter how hurtful, and no matter how much of a monster they suggest that God, and the person making them, must be? I suspect that it is probably a combination of both. What do readers of this blog think?
The Christian Century
featured an article by Peter Marty recently, asking whether God causes our suffering. Here is an excerpt:
The quick answer would be yes. Interpreting God's sovereignty to mean that God causes all circumstances to occur is a dangerous theological game to play. It turns people into passive subjects of a God who has a penchant for displaying power chaotically. Like marionettes dangling helplessly in thin air, we'd be forced to move through life while a stage-managing God yanks our strings whenever God pleases. Scripture doesn't lend credence to this idea. Jesus never counsels people to accept their suffering as the Lord's will. God may work in inscrutable ways, but there's no evidence that God works in nonsensical ways.
Click through to read the rest of that article.
What are some of the worst and best responses to suffering that you have come across recently?