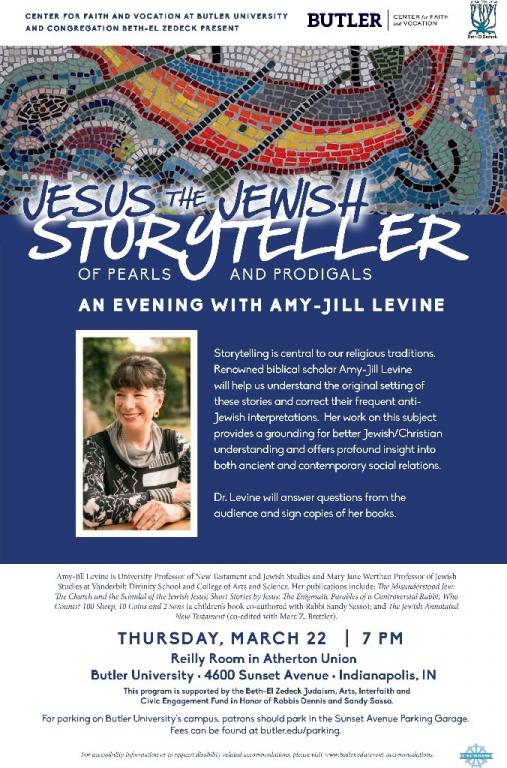 I am delighted to be able to share information about this upcoming event at Butler University. You can find a poster of the above image in pdf form online on the Congregation Beth El-Zedeck website.
Here are some additional details taken from the blurbs and other publicity materials you can find online about the event:
"Jesus the Jewish Storyteller: Of Pearls and Prodigals"
Thursday, March 22 at 7:00 p.m. in the Reilly Room in Atherton Union, Butler University

Storytelling is central to our religious traditions. Renowned biblical scholar Amy-Jill Levine will help us understand the original setting of these stories and correct their frequent anti-Jewish interpretations. Her work on this subject provides a grounding for better Jewish/Christian understanding and offers profound insight into both ancient and contemporary social relations. Dr. Levine will answer questions from the audience and sign copies of her books.

Dr. Levine is a renowned New Testament Scholar who orients to the text through a Jewish lens. Her scholarship is insightful for understanding Judaism, Christianity, and how the two relate to one another. She is the E. Rhodes and Leona B. Carpenter Professor of New Testament Studies at Vanderbilt University and is the co-editor of The Jewish Annotated New Testament.

This program is supported by the Beth-El Zedeck Judaism, Arts, Interfaith and Civic Engagement Fund in Honor of Rabbis Dennis and Sandy Sasso.
Those familiar with Levine's publications will recognize the connection to one of her recent books, Short Stories by Jesus: The Enigmatic Parables of a Controversial Rabbi, about Jesus as Jewish storyteller understood in an ancient Jewish context. I have to say that, with the religion program at Butler being a relatively small one, we don't bring New Testament scholars to speak on campus very often. And so this is doubly a treat from my perspective, since a visit by Levine would be something fantastic in any context – but in my own, it is all the more so. Indeed, I hope that the event is so successful and well-attended that it inspires organizations at Butler to plan more such events in the future!