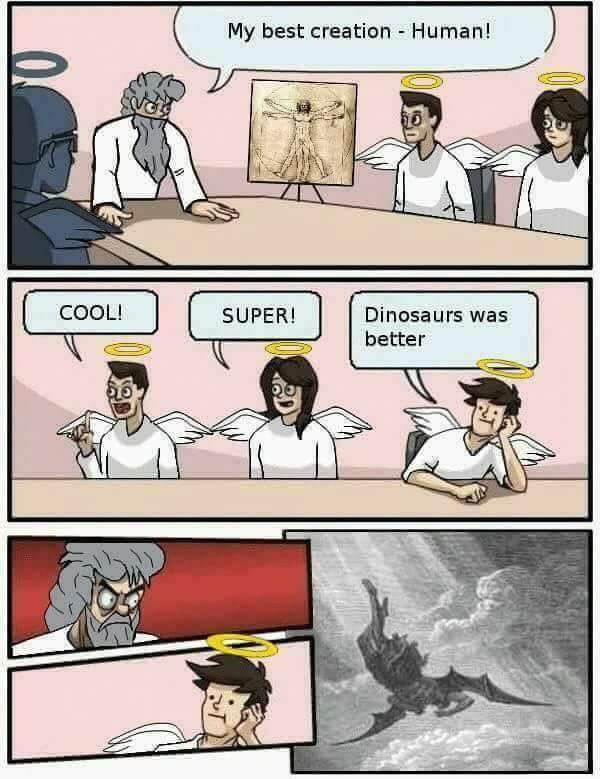 When this was shared on Facebook, the following question was posed in a comment:
Did God banish Satan because he thought dinosaurs were better, or because Satan used poor grammar?
While I could have just shared this bit of humor and been done with it, I actually feel I should follow with something a bit more serious, because there is something of a connection – indeed, a fairly direct one – with a topic that we discussed in my Sunday school class recently. But you won't see the connection immediately, so I hope you'll trust me and stick with me until it becomes clear!
We had read the first part of John 7, which mentions the brothers of Jesus not believing in him, and that quickly led us to James and also Jude, and the question of who these brothers were. I explained the various views, including the Catholic view that these are cousins because Mary was perpetually a virgin. (I also had the chance to explain that immaculate conception is not synonymous with virginal conception.)
From there we got onto the topic of Mary and then saints more generally in the Catholic tradition and their role as intercessors. The Baptists present said they really couldn't understand why Catholics felt the need for mediators of this sort. And so it was at that point that I turned to the idea presented in Martin Nilsson's classic article "The High God and the Mediator." The argument in that study is that there is a general pattern in religion across a vast swath of both space and time, in which there is a supreme deity and another key figure who represents that figure in interacting with humans. But even more broadly than that, there is a tendency to imagine the celestial realm through the lens of human bureaucracy. To give an example relevant to my own location, if one wants something done about potholes in Indianapolis, one doesn't write to the President of the United States. This is not a jab at Donald Trump – one wouldn't have written to Barack Obama, or any other president before him for such a matter either, at least not if one wants the issue resolved. The supreme leader does not deal with local matters directly. Lower-level functionaries are responsible for them. There is delegation of authority. And this human societal experience is reflected in the view in most religions that one appeals to a particular figure – whether called a god or a spirit, a saint or an angel – who is responsible for that particular sphere of activity. Monotheism of a particular sort – the idea that all of that power is retained by one figure to whom alone one should address all requests – always had a hard time catching on, and all instances of monotheism seem to allow some qualification of this exclusivity, inasmuch as it is hard if not impossible to explain the many things that are wrong in the world in such terms. Introduce bureaucracy, however, and one can do the same with heaven that many people do with their country, king, or government (at least for a while):  say that it is good, ultimately, but some lower-level functionary's demeanor or incompetence is screwing things up.
At any rate, hopefully you can see the connection with the cartoon. It envisages a celestial bureaucracy in which, even if the angels are expected to be "yes men" and not genuinely say what they think lest they incur the divine wrath, there is still an imagining of the divine/angelic realm on analogy with the way human society works.
Aren't you glad you didn't just look at the cartoon and then leave?