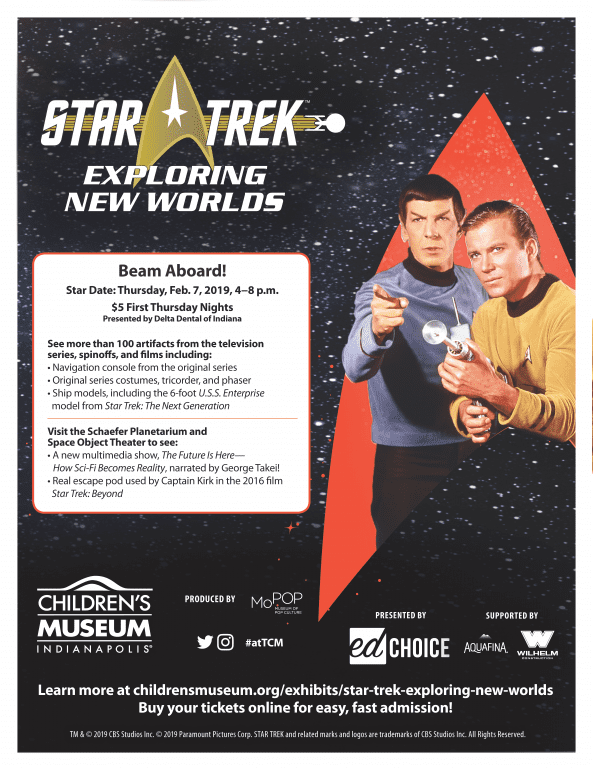 I'm very happy to share information that was provided to me about an upcoming exhibit at Indianapolis' world-class Children's Museum, and about the special $5 First Thursday evening on Feb. 7 when admission to the museum is just $5 from 4-8 p.m. Above is a special promotional flier about this $5 First Thursday night and about the exhibit itself. It looks like it is going to be superb – and not only for Star Trek fans, although especially for us.
In addition to this flier, the museum's marketing person wanted to share something about a part of the exhibit that isn't in their promotional materials (mostly because it would be hard to describe in limited words), but which will be appealing to many Star Trek fans. One component will be an interactive "scenario" that has occurred in Star Trek at some point. The Museum of Pop Culture (MoPOP) referred to this part of the exhibit as "Away Team Encounters (ATE)". These are four interactives that pose a tough ethical or moral dilemma, inviting visitors to choose what they think is right. Each of the four scenarios are from specific episodes.
Here is some text from the "Family Guide" that visitors will be given to read that provides more info:
THE DECISION IS YOURS

Over the years, many crew members from Starfleet have faced a variety of difficult situations and ethical dilemmas. Put your team in their place. What would you do? Study the featured scenarios and consider the many aspects of each dilemma. Discuss possible responses with your group and decide for yourselves what you believe is the right thing to do. How does your response compare to the one made by the original crew?

Consider the following dilemmas:

• Is it right to interfere with alien societies?

• Could you love someone who changes bodies?

• Are there such things as monsters? (this one explores the Prime Directive and is it right to interfere in the affairs of a less-advanced society)

• Should robots have the same rights as people?