The 40th episode of the ReligionProf Podcast features Emily Swan, who is a minister, an author, a Butler graduate, and a Doctor Who fan. And so you can see why we thought we should have a conversation! In the podcast we talk about those topics and many more, with particular focus on Pentecostalism and René Girard in places, as we get started by talking about the book Emily authored together with Ken Wilson, Solus Jesus: A Theology of Resistance. Some of the themes that come up in the podcast and/or in the book also appear in her column on the Medium website, such as the idea of a "post-Protestant" version of the Christian faith.
The book is full of things that are not only challenging but memorable and powerful in the very way that they are worded. I thought time and time again that phrases were memeworthy. Here is one example, which I do indeed hope will become a meme and circulate widely: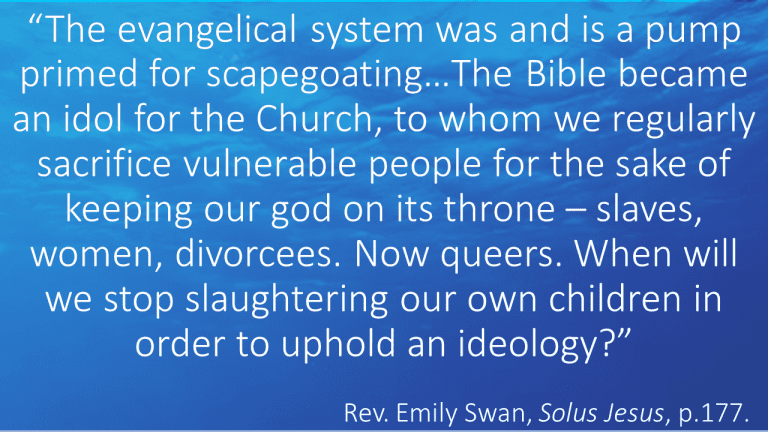 "The evangelical system was and is a pump primed for scapegoating…The Bible became an idol for the Church, to whom we regularly sacrifice vulnerable people for the sake of keeping our god on its throne – slaves, women, divorcees. Now queers. When will we stop slaughtering our own children in order to uphold an ideology?" (Emily Swan, Solus Jesus, p.177).
You can follow Emily on Twitter or visit her church blog, Blue Ocean Faith.
Here are a number of links that are hopefully of related interest, as they connect in some way with the overall theme, or specific topics touched on, in this week's podcast:
Call for Papers: René Girard and Pop Culture
Tongues Speaking in the Early Church (Pt. 1)
Tongues Speaking in the Early Church (pt. 2)
Ian Paul on Acts 11, Cornelius, and the gift of the Spirit
Restoring The Faceless Ones through animation
Doctor Who audio adventures – what if they were designed like TV episodes?
And more generally on the topic of podcasts:
Bart Ehrman blogged about a blog milestone.